Intel raises its dividend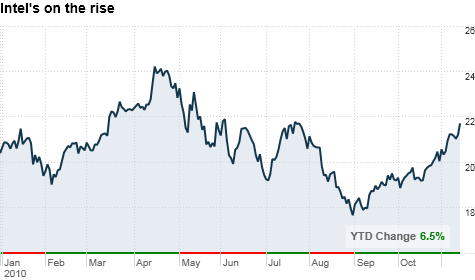 NEW YORK (CNNMoney.com) -- Intel Corp. announced Friday that it is raising its dividend by 15%, joining the ranks of other technology giants that have beefed up dividend activity.
Intel said the increase pushes its quarterly cash dividend up to 18 cents per share, or 72 cents per share on an annual basis.
"Our ongoing operational performance and confidence in our business going forward provide the ability to return more cash to shareholders," Chief Executive Paul Otellini said, referring to 2010 as Intel's "best year ever."
The move boosts the chipmaker's dividend yield to 3.4%, based on the company's Thursday closing price of $21.21 per share. That exceeds the yields offered by bonds such as the 10-year note, which was at 2.7% on Friday.
The company has been paying a cash dividend since 1992, and said it has already doled out $2.6 billion in dividends in the first three quarters of this year.
Intel's (INTC, Fortune 500) stock rose more than 2% on the news.
This is the latest example of a ramp-up in dividend activity as corporations look for ways to generate shareholder returns on their fattened wallets.
Intel is following in the footsteps of Microsoft Corp (MSFT, Fortune 500)., which ramped up its dividend in September for the first time in two years. The software company increased its quarterly dividend by 3 cents to 16 cents per share.
Another technology giant, the networking company Cisco Systems Inc., (CSCO, Fortune 500) said in September that it would start paying a dividend for the first time, yielding between 1% and 2%.