Microsoft fights decade-long stock funk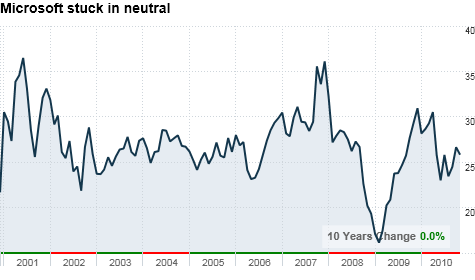 NEW YORK (CNNMoney.com) -- When Microsoft executives envision the company's future, they see record-setting sales and profits from exciting new products. But when Wall Street gazes into Microsoft's future, many potential investors seem to see only a blue screen of death.
Shares of Microsoft are essentially trading exactly where they were a decade ago. For the past 10 years, the stock has mostly bounced around a range between $22 and $32. This year, the software giant's stock is down 15%, even as the tech-heavy Nasdaq (COMP) is up 11% and the broader S&P 500 (SPX) is up 7%.
Analysts say this year's stock drop stems from investors' concerns that consumer demand for PCs is slowing, Microsoft's online business is losing money, and products like the iPad, Android and Google (GOOG, Fortune 500) Apps are a long-term threat to Microsoft's cash cows.
The angst was palpable at Microsoft's shareholders meeting last week, with one shareholder suggesting it's time to break up the company.
CEO Steve Ballmer immediately rejected that idea. But it has support from Goldman Sachs analyst Sarah Friar, who theorized in a recent note that the sum of Microsoft's parts would be worth more to investors than its current whole.
Microsoft urged its investors to calm down and look at the facts.
"Salesforce's stock price is based on hopes and Microsoft's is based on fears," said Bill Koefoed, Microsoft's general manager of investor relations, citing a rival whose stock is on a tear lately. "But hopes and fears are emotions, not investment-making vehicles."
Ballmer told shareholders that there are plenty of reasons to believe in Microsoft (MSFT, Fortune 500) in its current state: Not only has the company made significant progress in disruptive technologies like cloud computing, smartphones, and Web applications, but its bread-and-butter products Windows 7 and Office 2010 have continued to "sell like crazy."
On top of that, Microsoft's new Xbox component Kinect is the hottest video game product of the holiday season, selling 1 million in just 10 days. Microsoft's server and tools business is solid, search engine Bing's integration with Yahoo (YHOO, Fortune 500) is ramping up, and Windows tablets are in the works, the company says. Sales and profits are at record highs.
But despite all that, Microsoft's stock is very cheap, trading at just 10.5 times future earnings-per-share estimates. That compares to typical price-to-earnings ratios of 13.1 for the S&P 500 and 14.3 for the Nasdaq.
As a result, roughly two-thirds of stock analysts give Microsoft a "buy" rating, with the other third saying investors should hold the stock. No major analysts have a "sell" rating on it.
Citi analyst Walter Pritchard thinks Microsoft shareholders' reaction to the iPad and Google Apps is "overblown." He expects the stock to rise over the next six to 12 months as investors start to see positive Windows Phone, cloud and yes, even tablet sales. He also expects smaller losses in Microsoft's online business.
"I believe that most of the bad news is already in the stock price," said Sandeep Aggarwal, analyst at Caris & Co.
That sentiment was reiterated by Ballmer last week after a number of irked shareholders asked how Microsoft could turn its stock around.
Ballmer said that the solution is twofold: Microsoft has to continue to make great products, and its PR team needs to demonstrate those products success to investors.
"I understand the frustration," Ballmer said. "Ultimately, the stock market gets it right as long as we get it right. So, we optimize every day on getting it right."
Same old story
One catch: This is a tale we've heard before. Microsoft has been saying the same thing every year at its shareholder meetings about the quality of its products, but investors haven't been reaping the rewards.
Is it possible that Microsoft investors aren't overreacting? Are there legitimate reasons to doubt that Microsoft can continue to be so successful?
"While Microsoft is now doing a lot of things right, the market is forward looking," said Colin Gillis, analyst at BGC Partners. "We're looking at the potential for disruption from Google Apps, Chrome OS and a move to an app-based world."
Microsoft's response: Soothsayers have long predicted the demise of the PC, but it hasn't happened yet. Windows 7 has sold more than 240 million licenses in just over a year, making it the fastest-selling operating system of all time.
So maybe the reason Microsoft's stock hasn't done anything is because of something much simpler. It might just not be able to grow any more.
"There are economies of scale and scope," said Trip Chowdry, analyst at Global Equities Research. "Microsoft is so big that it's getting crushed under its own weight, and it will be stuck in this range forever. It doesn't mean Microsoft is a bad company; it's just a bad stock."
But Microsoft says it's not satisfied with that answer.
This time around, the story really is different, Koefoed insists. Microsoft's stock price is right where it was 10 years ago, but the company's sales -- and earnings -- have more than doubled in that time. Microsoft posted sales of $23 billion and a profit of $9 billion in fiscal year 2000. In its latest fiscal year, it had sales of $62 billion and earnings of $19 billion.

"The thing that's different is our stock is cheap, and our products are better than they were five years ago," said Koefoed. "If you look at our product portfolio and what we're putting out into the market, there's not an investor I've talked to that has said anything other than 'you're executing well.'"