Stock futures tumble on dour jobs report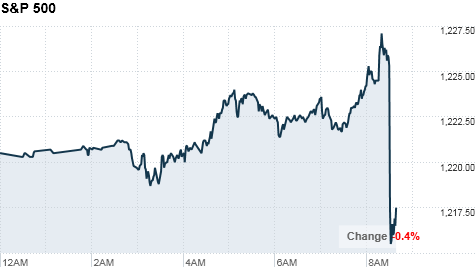 NEW YORK (CNNMoney.com) -- Stock futures turned lower Friday after a government report showed that U.S. job growth in November was much slower than expected.
Dow Jones industrial average (INDU), S&P 500 (SPX) and Nasdaq (COMP) futures revered earlier gains and turned lower ahead of the opening bell. Futures measure current index values against perceived future performance.
Investors have been buying up stocks and other risky assets this week, following a batch of improved economic indicators. But the tone turned cautious Friday after the government's monthly report on hiring and unemployment came in weaker than expected.
"This was certainly something that everyone was leaning in the wrong direction on," said Art Hogan, chief market strategist at Jefferies & Co. He said the report does not suggest that the economy could slip back into recession, but he acknowedged that "we're in for some tough sledding today."
Stocks had another big rally Thursday, as investors cheered strong retail sales figures and a pledge of support from the European Central Bank. Thursday's gains, coming on top of Wednesday's powerful rebound, pushed the Dow near its highs for the year, and lifted the S&P 500 above the key technical level of 1,200 points.
Economy: The U.S. economy added 39,000 jobs in November, the lowest number since September, the Labor Department said.
The total fell far short of expectations. An exclusive CNNMoney.com panel of economists had forecast a gain in payrolls of 150,000 jobs, with some even going as high as 200,000.
The unemployment rate rose to 9.8% after holding at 9.6% for several months.
A separate government report is expected to show that factory orders fell 1.3% in October, after a 2.1% gain in September.
The Institute for Supply Management's November index on manufacturing activity is forecast to edge up to 54.5, from 54.3.
Companies: Walter Energy (WLT) will buy Western Coal for $3.3 billion, the companies announced Friday. Walter Energy will pay $11.50 per share for the Canadian coal company, creating one of the world's largest publicly-traded producers of steel-making coal.
Shares of Ford (F, Fortune 500) were higher in premarket trading, after the automaker reported a 20% increase in November sales on Thursday.
World markets: As part of its battle with inflation, China will move to a more "prudent" monetary policy stance next year, the nation's Political Bureau said. The announcement was made Thursday morning in a report by Xinhua -- the government's official news agency.
The report stated that the move away from a "relatively loose" policy, put in place during the global recession in 2009, is aimed at curbing rising prices in China. The People's Bank of China hiked its benchmark interest rate in October, and raised the reserve requirement ratio for banks twice within one month, according to the report.
Asian markets ended the session mixed. The Shanghai Composite was flat, the Hang Seng in Hong Kong slipped 0.5% and Japan's Nikkei rose 0.1%.
European stocks fell. Britain's FTSE 100 was down 0.5%, France's CAC 40 slid 0.2% and the DAX in Germany fell 0.3%.
Currencies and commodities: The dollar fell against the euro, the Japanese yen and the British pound.
Oil for January delivery slid 22 cents to $87.79 a barrel.
Gold futures for February delivery rose $11.70 to $1,400 an ounce.
Bonds: The price on the benchmark 10-year U.S. Treasury edged higher, with the yield falling to 2.9% from 3% late Thursday.