Holiday's winners and losers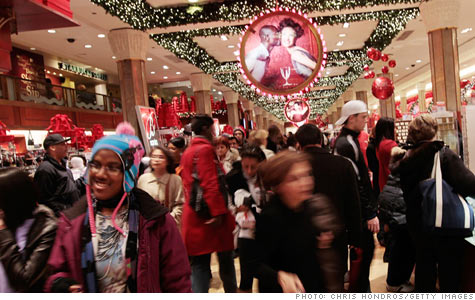 NEW YORK (CNNMoney) -- As the curtain lifts on 2011, the nation's retailers are celebrating one of the most robust holiday sales periods that they've had in years.
"The headline on the holidays is that it will be the best year for retailers in at least five years and possibly in more than a decade," said Craig Johnson, president of retail consulting group Customer Growth Partners.
On Thursday, we'll hear directly from merchants just how well consumers treated them in the crucial December sales race, when sellers report their same-store sales for the month.
Same-store sales, or sales at stores open at least a year, are a key measure of a retailer's performance.
Sales tracker Thomson Reuters, which monitors monthly sales for a group of 27 large chains, including Macy's (M, Fortune 500), J.C. Penney (JCP, Fortune 500), Target (TGT, Fortune 500) and Nordstrom (JWN, Fortune 500), expects December same-store sales for the group to increase 3.4% versus a gain of 2.9% a year earlier.
December's anticipated gain will follow a 6% sales surge for the group in November, and marks a 15-month streak of increasing in same-store sales. For 2010, the firm expects same-store sales grew 3.5% compared to a decline of 2.5% in 2009.
Most analysts are anticipating a blowout holiday season overall, which is marked by combined sales in November and December.
This is a big deal for both retailers and the economy. For retailers, year-end holiday sales can account for as much as 50% of their sales and profits for the full year.
Since consumer spending also fuels more than two-thirds of the economy, the hope is that a pick-up in spending means that Americans are feeling more secure about their jobs and spending ability.
While job growth has been slow in 2010, Johnson said consumers are sensing that the job market has turned.
"The savings rate has begun to normalize," said Johnson." At the peak of the recession it was over 8%. It's come back down to about 5%." Lastly, he said the "urge to splurge" really dominated the holiday season because consumers' finally unleashed three years of pent-up demand.
Winners and losers
Department stores dominate: "We believe both the aspirational and value-oriented consumer gravitated towards department stores and took sales away from teen merchants," said Robert Samuels, retail analyst with Phoenix Partners Group.
Johnson picked Macy's and Kohl's as holiday winners. Perkins expects higher-end sellers Nordstrom and Saks led the pack with strong sales as "more middle-income consumers trade up to these high-end sellers."
"In 2010, middle-income households started to feel more secure about their jobs. So they were willing to spend more," he said. "They also stopped seeing their home values drop and they saw a pick-up in their net worth because of the gain in the market."
Clothing chains: Women's clothing chains Ann Taylor and Chico's, No. 1 clothing seller Gap Inc. (GPS, Fortune 500) and teen specialty chain Abercrombie & Fitch are expected to be holiday winners.
Said Perkins," Gap was very aggressive with discounts. They got the customer traffic but those discounts may have hurt their profit margins."
Target Vs. Wal-Mart: Who won? The answer seems to be unanimous. Among discounters, Target emerged as the favorite to win the holiday sales race.
"Target had a pretty good season. They benefited from consumers trading up from Wal-Mart (WMT, Fortune 500) in price and merchandise," said Perkins.
Johnson said Target "definitely outperformed" Wal-Mart, adding that Target's 5% off purchases for its Target Redcard users program, launched in the fall, became very popular with consumers.
In electronics, Apple takes the cake: Perennial gift favorite, gadgets and gizmos, didn't sizzle this year. One exception: Anything with an Apple logo sold fast and furious. But sales of flat screen TVs and computers cooled. Best Buy (BBY, Fortune 500), the No.1 electronics chain, last month reported disappointing sales and profits in its third quarter.
Retail analyst Ken Perkins, president of RetailMetrics, acknowledges the better numbers but adds a caveat: "Part of the story is that retailers are also benefiting from easier three-year comparisons for the season."
Looking ahead to how 2011 plays out, Perkins says Americans typically take a breather after their year-end shopping marathon.
"I think the first quarter will be slow for sales as consumers rebuild their balance sheets," he said.
Samuels spotted some other headwinds for consumers in 2011. "The price of gas is rising. That will hit discretionary budgets," he said.
Retailers and manufacturers have also been absorbing higher cotton commodity prices in 2010. "Retail prices of cotton clothing could rise this year is retailers pass along some of the costs onto consumers," he said.