Holiday store sales chilled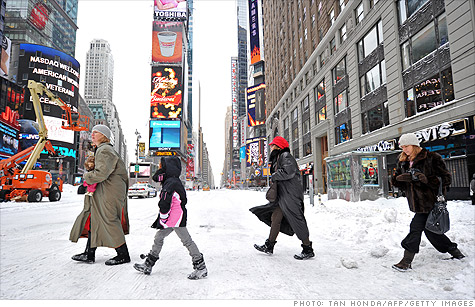 NEW YORK (CNNMoney) -- Holiday sales lost speed in December after a strong surge in the prior month, with many store chains reporting softer-than-expected monthly results Thursday.
A heavy snowstorm in the Northeast during the crucial post-Christmas sales weekend, combined with deep discounting, surging online sales and shopping fatigue most likely dampened the strong momentum that retailers enjoyed in November.
"Retailers' same-store sales numbers are looking a little softer than expected," said Ken Perkins, president of RetailMetrics. "All indications last month showed that malls were crowded and people were shopping. So this is a little puzzling that December won't be a blowout sales month."
According to some early same-store sales results Thursday, many specialty clothing chains missed analysts' expectations for the month, according to sales tracker Thomson Reuters.
Same-store, or sales at stores open at least a year, are an important gauge of a retailer's performance.
Among them were teen apparel retailer Hot Topic (HOTT) with a sales decline of 1.7%.
Also among teen-oriented stores, Wet Seal's sales fell 2.1% and Zumiez sales rose 9.2%, less than expected.
Discounter Target (TGT, Fortune 500) suffered a big miss, logging a gain of just 0.9% compared to estimates for a 4% increase, and No. 1 clothing chain Gap's (GPS, Fortune 500) sales fell 3% despite heavy discounts in December.
Target's big miss is expected to raise concerns about Wal-Mart's holiday sales. The world's largest retailer and discount giant, which struggled with weak sales throughout last year, had hoped to rev up year-end sales with very aggressive price cuts thorughout the holiday season.
Wal-Mart does not report monthly sales but is expected to provide December and holiday sales figures when it reports its quarterly results on Feb. 22.
Among department stores, Macy's (M, Fortune 500) reported a 3.9% same-store sales increase versus expectations for a 4.5% increase.
"Sales in December were strong at both Macy's and Bloomingdale's, consistent with our high expectations, despite snowstorms that disrupted after-Christmas shopping along the East Coast," said Macy's CEO Terry Lundgren, said in a statement.
However, high-end chain Nordstrom emerged a winner, posting a strong 8.3% sales gain that blew past estimates for a 3.4% rise. Its peer Saks celebrated a strong 11.8% sales surge.
Best showing since 2006: Thomson Reuters, which monitors monthly sales for a group of 28 large chains, including Macy's, J.C. Penney (JCP, Fortune 500), Target (TGT, Fortune 500) and Nordstrom (JWN, Fortune 500), said December same-store sales for the group increased 3.1%, down from its initial forecast for 3.4% gain, but better than the 2.9% increase a year earlier.
December's gain followed a 6% sales surge for the group in November, and marks a 15-month streak of increasing same-store sales.
Retailers tally their holiday sales by looking at total purchases in the November-December months combined. Those two months are critical for merchants because they can account for as much as 50% of their sales and profits for the full year.
Thomson Reuters retail analyst Jharonne Martis said same-store sales for the two months combined increased 4.4% in 2010, making it the best holiday sales season for sellers since 2006, when holiday sales grew 4.6%.
"Yes, December was a little disappointing but final holiday sales were still good," said Martis, adding that many high-end sellers came out strong as consumers also traded up from discount and specialty chains.
Perkins agreed. "2010 holiday sales might not have been the best in five years but in four," he said. "Not bad at all."
The National Retail Federation expects holiday sales to have increase 3.3% versus a slight 0.4% gain in 2009.
What's in store for 2011: Looking ahead to how 2011 plays out, Perkins says Americans typically take a breather after their year-end shopping marathon.
"I think the first quarter will be slow for sales as consumers rebuild their balance sheets," he said.
Roberts Samuels, retail analyst with Phoenix Partners Group, spotted some other headwinds for consumers this year.
"The price of gas is rising. That will hit discretionary budgets," he said.
Retailers and manufacturers have also been absorbing higher raw cotton prices in 2010.
"Retail prices of cotton clothing could rise this year as retailers pass along some of the costs onto consumers," he said