Stocks: All eyes on Egypt, jobs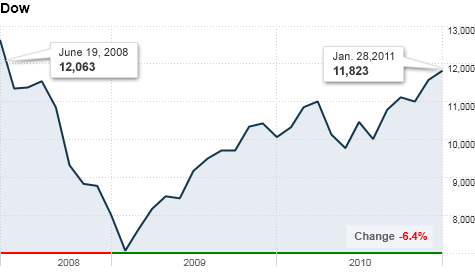 NEW YORK (CNNMoney) -- Stocks have been on a run since late August, and investment experts have been warning that the market is due for a short-term correction. With political unrest in the Arab world and the January jobs report taking center stage this week, the catalyst for a downward move may finally be here.
After rising to the highest levels since the summer of 2008 and crossing key psychological milestones -- the Dow topped 12,000 and the S&P hit 1,300 last week -- stocks took a hard hit Friday as investors watched anti-government demonstrations unfold in Egypt.
"We are worried about the developing geopolitical risk in the Middle East and North Africa," said David Kotok, chief investment officer at Cumberland Advisors. "We do not know where it will spread, nor do we know how it will run its course."
Protests in Tunisia, Algeria, Jordan, Yemen, and now Egypt, could continue to have a domino effect across the Arab world. As such, Kotok said he raised the cash positions in his portfolios at the end last week to the highest levels since 2008.
While political instability alone will likely upset the market, the wounds could be deeper if the turmoil spills over to major oil producers like Iran. Amid the uncertainty, oil prices spiked more than 4% last Friday.
Jobs report: The week's most closely-watched reading on employment is due Friday. Employers are expected to have added 150,000 jobs in January after adding 103,000 jobs in December.
Despite the gains, the unemployment rate is expected to tick back up to 9.6% as some of the unemployed return to the labor force to search for jobs. The unemployment rate dropped to 9.4% in December.
Kim Caughey, senior equity analyst at Fort Pitt Capital Group, said the market can't continue to rally "without a sustained recovery, which means we need to get people back to work."
Last week, unemployment claims jumped back above 450,000, signaling that the roller coaster ride for the job market has not yet come to an end.
Earnings: Though a bulk of companies have already posted quarterly results, investors will continue to watch as major players including Dow component Exxon Mobil (XOM, Fortune 500) open their books next week.
The oil giant will release results Monday before the opening bell, while fellow blue-chip Merck (MRK, Fortune 500) will post earnings Thursday morning.
More than 100 companies from the S&P 500 are also due to report, including Pfizer (PFE, Fortune 500); media giants News Corp. (NWSA), Viacom (VIA), and CNNMoney's parent company Time Warner (TWX, Fortune 500); and credit card giants Visa (V, Fortune 500) and Mastercard (MA, Fortune 500).
Of the 207 S&P 500 companies that have reported results so far, more than 70% have beat earnings and sales estimates, according to Thomson Reuters. Earnings have climbed by 36% on average, while revenues have increased 5% from a year earlier.
On the docket
Monday: A government report on personal income and spending is due before the opening bell. Economists surveyed by Briefing.com expect income to have risen 0.5% in December after rising 0.3% the previous month. Spending is forecast to have edged up 0.6% after increasing 0.4% in December.
The January reading of Chicago PMI, a regional manufacturing index, is due shortly after the start of trading. Economists expect that it slipped to 65.0 from 68.6 in December. Any index reading over 50 indicates expansion.
Tuesday: The Institute for Supply Management's index of manufacturing is due after the start of trading. Economists forecast the index to have increased to 58.2 in January from 57.0 in December. Any number above 50 indicates growth in the sector.
Construction spending, also due after the opening bell, is forecast to have dropped 0.5% in December, following a rise of 0.4% in November.
Auto and truck sales for January are due throughout the day.
The Senate Budget Committee kicks off three days of hearings on the economic outlook, tax reform and challenges to the economic recovery.
Wednesday: A report from payroll services firm ADP is expected to show that employers in the private sector added 150,000 workers in January after boosting payrolls by 297,000 in the previous month.
Separately, outplacement firm Challenger, Gray & Christmas issues its report on planned job cuts in January.
Meanwhile, the U.S. government's weekly crude oil inventories report and readings on mortgage applications are also on tap.
Thursday: The government's weekly jobless claims report comes out before the start of trading, with 425,000 Americans expected to file new claims for unemployment, after 454,000 were filed in the previous week.
Factory orders are due from the Commerce Department after the start of trading. Orders are forecast to have dropped 0.7% in December after increasing 0.7% in November.
The ISM services sector index for January is expected to have decreased to 57.0 from 63.5 in December.
Readings on unit labor costs and fourth--quarter business productivity are also due.
Ben Bernanke, chairman of the Federal Reserve, will address the National Press Club in Washington at 12:30 p.m. ET.
Friday: The government will release the highly-anticipated January jobs report before the opening bell.