Tough truths from Fiat-Chrysler CEO Sergio Marchionne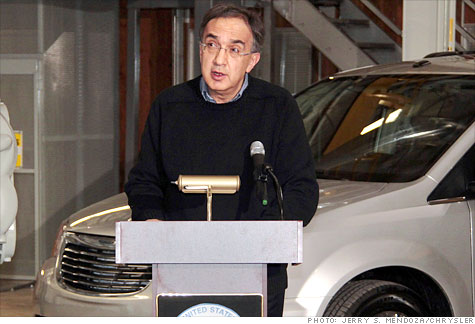 FORTUNE -- It has been quite a month for Fiat-Chrysler CEO Sergio Marchionne, and it isn't over yet.
A man whose monk-like work habits sometimes shield him from public view for months at a time has been out and about, saying what he thinks, and generally stirring things up. He's feuded with a corporate rival, angered the premier of Italy, and been accused of anti-Semitism.
Marchionne may also be the industry's biggest truth-teller since General Motors' (GM) Bob Lutz. Marchionne is as smart as they come and doesn't do much without being acutely aware of the consequences. He also admires the appropriate riposte and bon mot. You can't help but suspect that his seemingly off-the-cuff remarks are actually premeditated. His verbal bombshells are strategic, not random.
The fun began early in February at an industry conference in San Francisco. Marchionne complained that Chrysler's bailout loans carried "shyster" interest rates. Some view the word as anti-Semitic, although some authorities say that is a false etymology. Marchionne apologized the next day, nevertheless. Whatever the origin of the unpleasant word, he had certainly made his point: Interest on government loans was hurting Chrysler's financial results.
Equally revealing were Marchionne's comments on the Fiat-Chrysler alliance at the same event. He appeared to suggest that Fiat could eventually merge with Chrysler and move its corporate headquarters from Turin to the U.S. "In the next two or three years, we could be looking at one entity," Marchionne said. "It could be based here."
That seemingly off-handed comment was actually another skirmish in Marchionne's long-running war to make Italy more business-friendly. The CEO later backtracked, saying no decision has been made and that nothing would be decided on the carmaker's future headquarters until 2014. But that was only after Marchionne had been summoned to Rome to meet Italian prime minister Silvio Berlusconi and other ministers to discuss Fiat's future plans. Meanwhile, Fiat chairman John Elkann, the grandson of Gianni Agnelli, called the mayor of Turin to explain the possibility of Fiat having more than one managerial center, with others in Brazil, the U.S., and Asia.
Marchionne described the controversy his comments had raised in Italy as an ''exaggerated reaction," but he floated the idea of moving Fiat's headquarters again later in the month. Speaking before a parliamentary committee, Marchionne urged legislators to make Italy more open to business or risk having the country's largest car maker move its headquarters abroad.
To be sure, Marchionne also reiterated Fiat's commitment to invest $27 billion in Italy in coming years, but he made it seem as if it was against his better judgment. "If we consider the alternatives that our company has and the industrial policies adopted by many other countries that compete with Italy, the fact that Fiat has decided to commit itself (to the country) is an anomaly," he said.
Marchionne also continued his long running war of words with Ferdinand Piech, chairman of Volkswagen Group. The acquisitive Piech acquired Bentley and Lamborghini, and has run them with great success. He also had reportedly expressed an interest in buying Fiat's Alfa Romeo. Although Alfa has fallen short of Marchionne's sales goals, he has denied any interest in selling it, and he did so again in pointed remarks directed at the VW chairman.
"As long as I am CEO of Chrysler and Fiat, Mr. Piech will never have Alfa Romeo. It's hands-off. I told him. I will call him and I will email him," Marchionne said.
Marchionne fired a second shot as well, according to Automotive News Europe, saying that Piech should be trying instead to turn around Seat, VW's struggling Spanish brand, instead of eyeing Alfa. "I'm not the one who bought Seat," Marchionne needled. "He's the one who bought it. I don't know if he can [fix it], but he needs to try."
When he wasn't inflaming passions with his intemperate remarks, Marchionne was reported to be intimately involved in the creation of the "Born of Fire" ad Chrysler ran during the third quarter of the Super Bowl. The two-minute ad, which featured the rapper Eminem celebrating the revival of Detroit, required a special waiver from the NFL because of its length. Since it ran over the league's 90-second limit, a timeout on the field had to be extended so the commercial could be broadcast.
Why is Marchionne all of a sudden breaking cover? 2011 is a very big year for Chrysler. It is launching 16 products in 12 months, including the Fiat 500, the first car to be sold in the U.S. to wear the Fiat badge in 27 years.
He's also set huge ambitious goals for Chrysler in 2011. He wants to sell two million cars worldwide, a 25% increase from the 1.6 million sold a year ago. That's on top of a 21% jump in 2010.
Finally, 2011 is the year Marchionne wants to return Chrysler to the public markets with an IPO. The intensely-competitive Marchionne will want to at least equal the rapturous reception that GM got in 2010.
Based on all that activity, you can expect to see more calculated "impromptu" remarks going forward as Marchionne seeks more attention for his American reclamation project.