Stocks sink for second day as oil hits $100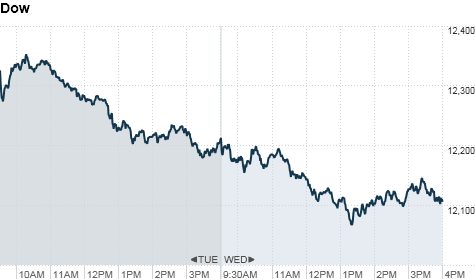 NEW YORK (CNNMoney) -- Stocks declined for a second straight session Wednesday as oil prices surged to briefly cross the $100 per barrel mark amid mounting turmoil in Libya.
The Dow Jones industrial average (INDU) fell 107 points, or 0.9%, a day after the blue-chip index plunged nearly 180 points. That was the first back-to-back triple-digit drop for the blue-chip index since June.
Meanwhile, the S&P 500 (SPX) slipped 8 points, or 0.6%.
Both indexes were also dragged lower by a 10% tumble in shares of Hewlett-Packard (HPQ, Fortune 500). Late Tuesday, the computer company issued a disappointing outlook and quarterly sales figures.
The Nasdaq (COMP) fell 33 points, or 1.2%, with a 7% decline in shares of Dollar Tree (DLTR, Fortune 500) leading the index lower. HP is not included in the tech-heavy index.
Oil prices continued to climb, jumping more than 4% to $100 a barrel for the first time since October 2008 amid talk of production disruptions. The North African country is the first oil exporting nation to be affected by the unrest sweeping across the Arab world.
While Libya only contributes about 2% of global output, analysts are worried about the violence and chaos spreading to bigger exporting neighbors.
"Investors are watching what's happening across the Middle East, and waiting to see if more dominoes will fall," said Ron Kiddoo, chief investment officer at Cozad Asset Management.
Traders are keeping a particularly close eye on oil-rich Saudi Arabia, where King Abdullah announced a series of measures worth billions of dollars Wednesday in an effort to ward off the kind of revolts that have roiled the region.
World markets: European stocks closed lower. Britain's FTSE 100 fell 1%, the DAX in Germany slid 1.6% and France's CAC 40 edged lower by 0.8%.
Asian markets ended the session mixed. The Hang Seng in Hong Kong declined 0.4% and Japan's Nikkei fell 0.8%, while the Shanghai Composite ticked up 0.2%.
Companies: Shares of CBOE Holdings (CBOE), the parent company of the Chicago Board Options Exchange, jumped almost 2% after Reuters reported that the company is "open to 'strategic transactions" such as a sale or merger with another exchange operator." CBOE declined comment.
Shares of home improvement chain Lowe's (LOW, Fortune 500) declined 1% after the company reported quarterly earnings that beat analysts' expectations.
Economy: A report from the National Association of Realtors showed that existing home sales rose 2.7% to an annual rate of 5.36 million units.
Currencies and bonds: The dollar dropped versus the euro, the British pound and the Japanese yen.
The price on the benchmark 10-year U.S. Treasury fell slightly, with the yield pushing up to 3.49% from Tuesday yield of 3.46%.