Stocks end 'tough month' in the black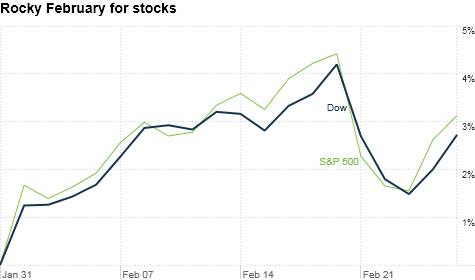 NEW YORK (CNNMoney) -- Despite a slight step back last week, stocks closed out February on an upbeat note, posting their third straight month of gains.
The Dow Jones industrial average (INDU) rose 96 points, or 0.8%, on Monday; the S&P 500 (SPX) rose 3 points, or 0.2%; the Nasdaq (COMP) was flat for the day.
Overall, all three major indexes were up nearly 3% during the month and have risen more than 5% since the beginning of the year.
"All being said, the market did very well in February," said Rich Ilczyszyn, market strategist with futures broker Lind-Waldock.
But that doesn't mean the ride wasn't a bumpy one. While stocks started February off strong thanks to solid earnings reports, uprisings in the Middle East sent oil prices skyrocketing and stocks falling last week.
"It's really been kind of a tough month," said Jack Ablin, chief investment officer of Harris Private Bank in Chicago. "I'm hopeful that as long as consumers believe higher energy prices are temporary, I think we can work our way through this."
Investors are looking ahead to the government's monthly payroll report on Friday, which will reveal how many jobs were created in February.
Economy: A report showing that personal incomes climbed 1% in January got investors in an upbeat mood early in the day, even though most of that increase was due to a 2% payroll tax holiday passed by legislators in late 2010.
"We saw a knee-jerk reaction to that headline," Ablin said. "I'm surprised that number wasn't already baked into the market."
Later, investors also welcomed a report on Chicago-area manufacturing showing that sector accelerated at a faster-than-expected pace in February. The Chicago PMI rose to 71.2 from 68.8 in January, although economists had expected a slight decline.
A report on the housing market came in slightly better than expected, showing pending home sales fell 2.8% instead of the deeper 3.2% fall economists had been forecasting.
Investors remain generally unfazed by a potential shutdown of the federal government, which could occur if Congress fails to approve a spending bill before midnight Friday.
Companies: Humana (HUM, Fortune 500) shares rose 3.9% after the company announced the Department of Defense awarded the health insurer a major contract, covering military personnel and their families in the South.
UnitedHealth Group (UNH, Fortune 500) had previously held the contract, and its shares were flat Monday.
Kenneth Cole Productions (KCP) shares tumbled 7% Monday, after the high-end clothing company announced its CEO Jill Granoff is stepping down, effective immediately. The company posted a loss of $2.7 million in the fourth quarter, an improvement over a $52 million loss in the year-ago quarter.
The fashion house's namesake had recently come under fire in the social media sphere, for tweeting a promotion that joked about protests in Egypt.
Shares of Overstock.com (OSTK) soared 9%, after the online retailer announced earnings that beat Wall Street estimates.
3M (MMM, Fortune 500) gained 2.2%, after a Barrons article reported the company will launch a "blizzard" of new products and soon see rising sales in international markets. Over the weekend, 3M CEO George Buckley slammed President Obama as "anti-business," calling his policies "Robin Hood-esque."
Amazon (AMZN, Fortune 500) shares fell more than 2.2%, after UBS downgraded its stock to "neutral."
World markets: European stocks ended the day mixed. Britain's FTSE 100 fell 0.1%, the DAX in Germany ticked up 1.2% and France's CAC 40 edged up 1.3%.
Asian markets ended the session higher. The Shanghai Composite added 0.9%, the Hang Seng in Hong Kong gained 1.4% and Japan's Nikkei rose 0.9%.
Currencies and commodities: The greenback fell against the euro, the British pound and the Japanese yen.
Oil for April delivery slipped 91 cents to settle at $96.97 a barrel.
Gold futures for April delivery rose 60 cents to settle at $1,409.90 an ounce.
Bonds: The price on the benchmark 10-year U.S. Treasury rose, pushing the yield down to 3.43% from 3.59% late Friday.