States look to repeal 'job-killing' regulations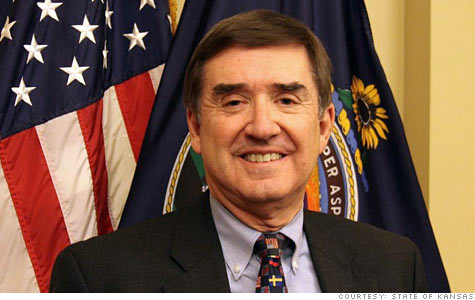 NEW YORK (CNNMoney) -- He is known as The Repealer.
Dennis Taylor's job is to repeal burdensome and outdated regulations that hinder business development in Kansas.
The Sunflower State is only one of several looking to lessen what they call the regulatory burden on their states. Offices designed to repeal, review or "reinvent" regulations are sprouting up across the country.
Some states, such as Kansas and Michigan, are reviewing rules to see which ones need to be eliminated. Others, including Florida, are going a step further and freezing new rule-making while examining existing regulations.
The Republican governors are mirroring efforts at the federal level to review and discard barriers to employment growth. Both President Obama and the House of Representatives are looking to lighten the regulatory load on companies. After a lawmaker asked for examples of burdensome federal regulations, businesses responded with a nearly 2,000-page list of rules they'd like eliminated.
The Office of the Repealer
Taylor and his Office of the Repealer are a key part of Gov. Sam Brownback's effort to spur job creation and economic expansion.

"If you regulate something to too great a degree, folks who are creating businesses might move somewhere else," said Taylor. "Certain things outlive their usefulness."
In coming days, the state will post a web site where "aggrieved citizens" -- including residents and businesses -- can suggest regulations they want reviewed. Already, Taylor has received more than three dozen suggestions from companies and social service agencies.
One man, for instance, dropped by to voice his concerns about industrial health and safety regulations at his company, which employs 25 people. He told Taylor that he was concerned about the repeated visits from inspectors and the potential for fines hanging over him.
Taylor's team will run a cost-benefit analysis on each rule brought to their attention. The Repealer admitted he is still "feeling my way" through exactly how to determine whether a regulation is burdensome. He plans to reach out to agencies and the public for input.
One thing he promises, however, is that he will keep consumer protection top of mind. He will not abolish rules without giving the public the opportunity to defend them.
"One person's interference is another person's protection," said Taylor, a lawyer who has worked in all levels of government for the past 25 years. "It's always a balance."
Reviewing every rule
In Michigan, the newly created Office of Regulatory Reinvention will look at the thousands of rules, as well as informal actions and guidelines, that state agencies enforce.
The initiative is part of a broader reorganization of the Department of Energy, Labor and Economic Growth, which is now being called the Department of Licensing and Regulatory Affairs.
To lead the effort, Gov. Rick Snyder appointed Steve Hilfinger, a lawyer who has worked in corporate restructuring in Detroit for the past decade. After cataloging Michigan's regulations, Hilfinger's office will recommend to the governor which ones should be amended or repealed. Also, he will have to sign off on any new regulations before they take effect.
The goal is to make regulations "more simple, fair, efficient and transparent" and to make sure they don't hinder job creation, Hilfinger said. Some rules, for instance, may no longer make sense because of advances in technology. Others may exceed federal standards.
But, public safety will be the No. one priority.
"We consider rules that protect health and safety to be of paramount importance," he said.
Meanwhile, in Florida, Gov. Rick Scott wasted no time cracking down on regulations.
One of his first officials acts after taking office in January was "to freeze job-killing regulations" and to "re-examine every regulation to make sure its benefits outweigh its costs," he said.
"Unless they are pruned, regulations grow like weeds," he said in his inaugural address. "We will conduct a top-to-bottom review of all state regulations and weed out unnecessary ones that hinder job creation."