Oil steadies around $104 ... for now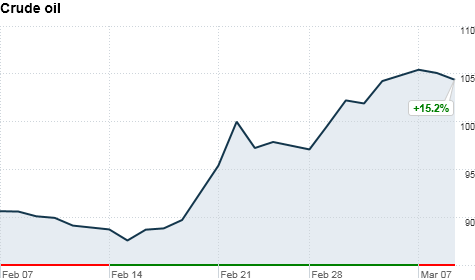 NEW YORK (CNNMoney) -- Oil prices dug in around the $104-a-barrel level Wednesday as investors remained focused on geopolitical concerns.
The benchmark U.S. oil contract, West Texas Intermediate, edged down 64 cents to settle at $104.38 a barrel for April delivery.
Crude prices have propelled to their highest levels since 2008 as the escalating violence in Libya has raised worries about supply disruptions from North Africa and the Middle East.
The head of the Kuwait Energy Company said Tuesday that the wave of anti-government protests that toppled regimes in Egypt and Tunisia this year will eventually engulf the entire Middle East.
But Sara Akbar, the chief executive of privately held Kuwait Energy, said she expects the movement to be largely non-violent, and could bring greater transparency to the region. Such a transition could take years to play out, but oil production will remain a priority for any new regimes, she added.
That's led to widespread speculation about just how high prices might go.
The Energy Information Administration said Tuesday that it expects the cost of crude oil for refiners to average $105 per barrel this year. That's up from $91 a barrel in the previous outlook.
The EIA also raised its projection for the average price of WTI crude this year to $102 a barrel, up $9 from the previous estimate.
The upward revisions reflect "continuing unrest in Libya as well as other North African and Middle Eastern countries," according to the report.
The jump in crude prices has driven up retail prices for gasoline, and the EIA said drivers can expect prices to move even higher "since the recent increase in crude oil prices has not yet been fully passed through to gasoline prices."
The average price for a gallon of regular gas is now expected to average $3.56 this year, according to EIA. That's about 77 cents more than the average cost in 2010, and is an increase of 40 cents compared with the previous forecast.
Based on current market prices, the EIA said there is a 25% probability that retail gas prices will spike above $4 a gallon this summer. During peak driving season, from April through September, gas prices are expected to average $3.70 a gallon, the report said.
Separately, the nation's supplies of crude oil rose by 2.5 million barrels last week, according to the EIA's weekly inventory report. That was slightly more than the 2.3 million barrel increase forecasted by analysts at Platts.
Gasoline supplies fell by 2.5 million barrels last week, while supplies of distillates, used to make diesel and other fuels, dropped 4.1 million barrels. Analysts had expected gas stocks to fall by 2.5 million barrels and distillates to decline by 1.8 million barrels.
Oil prices came under pressure Tuesday following reports that the Organization of the Petroleum Exporting Countries could hold a meeting to discuss the possibility of increasing output to make up for any shortfalls.
The Saudi oil minister, Ali Al-Naimi, said Tuesday that the recent run-up in prices is driven largely by speculation, rather than supply and demand fundamentals, according to a report by the official Saudi Press Agency.
However, Al-Naimi did say that Saudi Arabia is building up crude supplies at certain strategic locations around the world, including facilities in Egypt, the Netherlands and Japan.
Al-Naimi stressed that the OPEC leader is committed to maintaining stability in the oil market. "Time after time we have delivered on that commitment by tapping our additional crude oil production capacity when supply conditions warranted, and Saudi Arabia will continue to reliably meet the world's petroleum needs,' he said.
OPEC members increased output in February to an average 29.8 million barrels per day, up from 29.6 million barrels per day in January, according to a survey of cartel officials and industry experts conducted by Platts.
The 230,000 barrel per day increase "more than offset" the 190,000 barrels of oil taken off the world market in February due to the crisis in Libya, the survey said.
Meanwhile, the conflict in Libya between rebels and supporters of Moammar Gadhafi continues, with the death toll rising and increasing calls for an international intervention.
Fierce battles rage for control of key Libyan cities in the east and west. In the eastern oil city of Ras Lanuf, rebels used anti-aircraft guns to counter fresh raids by Libya's air force Tuesday.
After dismissing reports Tuesday that he was negotiating an exit from power, Gadhafi struck a defiant tone Wednesday in remarks broadcast on Libyan state television.
Gadhafi reiterated his assertion that Libyan youths have been drugged by al Qaeda and argued that Western powers are bent on taking over the country.
"They want to take your petrol," he said. "This is what America, this is what the French, those colonialists, want."
-- The CNN Wire Service contributed to this report.