Stocks end higher for the day, lower for the week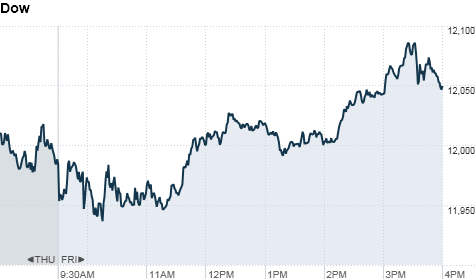 NEW YORK (CNNMoney) -- Despite posting decent gains during Friday's session, stocks finished a choppy week of trading lower, as investors remained on edge in the wake of a massive earthquake and tsunami in Japan that have added to concerns over conflict in North Africa and the Middle East.
The Dow and S&P 500 fell more than 1%, while the Nasdaq sank almost 2.5% during the week.
The disaster in Japan came against a backdrop of worry about volatile political events, such as the ongoing civil war in Libya and planned anti-government protests in Saudi Arabia.
Despite the concerns, stocks rebounded Friday from the previous day's sharp sell-off.
The Dow Jones industrial average (INDU) rose 60 points, or 0.5%, with 3M (MMM, Fortune 500), Caterpillar (CAT, Fortune 500) and Alcoa (AA, Fortune 500) up more than 1%. Shares of energy giants Exxon Mobil (XOM, Fortune 500) and Chevron (CVX, Fortune 500) were also big gainers.
The S&P 500 (SPX) rose 9 points, or 0.7%, with energy companies Tesoro Corp. (TSO, Fortune 500) and Valero Energy Corp. (VLO, Fortune 500) leading the advance. Shares of Tesoro jumped almost 9%, while Valero's stock rose 6.3%.
The Nasdaq Composite (COMP) added 15 points, or 0.5%, led by gains in Vartex Pharmaceuticals (VRTX) and Chinese Internet company Baidu (BIDU).
"There are a lot of stories hovering over the marketplace, but investors have to think about how much these factors will affect U.S. GDP growth, and it's not much in reality," said Steve Goldman, market strategist at Weeden & Co.
He added that trading will be choppy as investors continue to digest headline risks, but stocks will likely approach their recent highs again soon.
"There's a lot of uncertainty we have to deal with, but markets have already given back about half the gains made this year," Goldman noted.
Plus, the rebuilding effort in Japan effort could have a positive impact on the global economy, said Phil Orlando, chief equity market strategist at Federated Investors.
"The catastrophe and the loss of so many lives is tragic, but from an economic standpoint, this means that the Japanese government needs to spend a lot of money immediately to rebuild the country," Orlando said. "That forced spending on infrastructure will not just help stimulate the Japanese economy, but others as well."
An 8.9-magnitude earthquake hit northern Japan on Friday, triggering massive tsunamis that swept across towns apparently killing hundreds, according to the Kyodo News Agency. The tsunami was followed by powerful aftershocks that were felt in Tokyo.
The quake prompted the United States to issue tsunami warnings for Hawaii and the West Coast. Nineteen other countries in the Pacific also issued warnings.
Asian stocks, which had been falling before the quake struck, finished sharply lower with Japan's Nikkei down 1.7%. European markets were under pressure in active trading.
World markets: European stocks stumbled Friday. Britain's FTSE 100 fell 0.3%, the DAX in Germany lost about 1.1% and France's CAC 40 dropped 0.9%.
Asian markets ended lower. The Shanghai Composite sank 0.8%, the Hang Seng in Hong Kong declined 1.5% and Japan's Nikkei tumbled 1.7%.
Companies: The Japanese disaster had an impact on stateside insurance companies including Aflac (AFL, Fortune 500), which slipped 0.3%. About 75% of Aflac's revenue comes from Japan.
Other insurance companies, including Aspen Insurance Holdings (AHL), Everest Reinsurance Group (RE), XL Group (XL) and Hartford Financial Services (HIG, Fortune 500), were also down in Friday's session.
Economy: Orlando added that investors are also keeping an eye on the latest readings on the U.S. economy, which suggest that the recovery remains on solid ground.
Retail sales rose 1% in February, matching expectations from a consensus of economists surveyed by Briefing.com. Excluding automobile sales, retail sales rose 0.7% -- only slightly higher than the projected increase of 0.6%.
The government revised its retail sales figures for January to an increase of 0.7%, compared to the previously reported increase of 0.3%. Ex-auto sales rose 0.6% in January, compared to the previously reported increase of 0.3%.
"Retails sales in February were excellent, even on the back of strong back-to-school and holiday shopping seasons, which means consumers are back," Orlando said. "The manufacturing portion of the economy also remains strong."
The Commerce Department said business inventories rose 0.9% in January, which was slightly better than economists expected.
The University of Michigan's March reading on consumer sentiment fell to 68.2, from 77.5 the previous month.
Currencies and commodities: The dollar fell slightly against the euro and the British pound. The greenback tumbled 1.3% against the Japanese yen.
Marc Chandler, chief foreign exchange strategist for Brown Brothers Harriman, said that Japanese investors were unwinding their surplus positions overseas -- including selling off their dollars and buying up the yen.
"Japanese companies have to bring their money back home to rebuild," he said. "Insurance companies have to buy yen to make payments."
Oil for April delivery fell $1.54 to settle at $101.16 a barrel
Gold futures for April delivery rose $9.30 to $1,421.80 an ounce, recovering from an earlier slump.
Bonds: The price on the benchmark 10-year U.S. Treasury dropped, pushing the yield up to nearly 3.40% from 3.37% late Thursday.