Tokyo's Nikkei ends 1.4% lower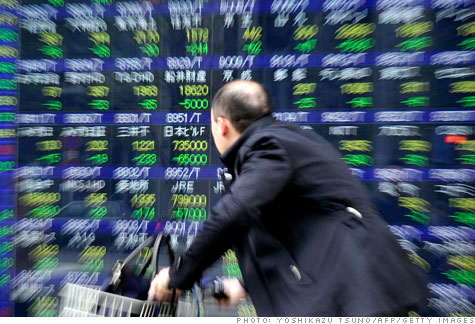 NEW YORK (CNNMoney) -- Stocks in Japan finished lower Thursday amid fears of a nuclear crisis following the nation's catastrophic natural disaster.
The Nikkei 225 index, the most prominent measure of stocks traded in Tokyo, dropped 131 points, or 1.4%. It was down as much as 454 points, or 5%, before rebounding.
The index recovered nearly 6% on Wednesday after plunging a combined 16% during the first two trading days following last week's massive earthquake and tsunami. Overall, in the past five sessions, the index is down more than 14%.
Investors remain focused on the effort to cool damaged reactors and prevent a meltdown at the Fukushima Daiichi nuclear power plant, located about 138 miles north of Tokyo. An effort using helicopters appeared to have little success, and officials were prepared to use water cannons from trucks later in the day.
The head of the U.S. Nuclear Regulatory Commission said Wednesday that spent fuel rods in Unit 4 of the stricken nuclear plant have been exposed, resulting in the emission of "extremely high" levels of radiation.
The damage at the plant stems from the massive earthquake that struck off Japan's coastline on March 11. The 9.0-magnitude quake, one of the largest on record, gave rise to a tsunami that caused widespread destruction across northern Japan.
The official death toll is 5,321, with more than 9,000 missing and several hundred thousand homeless since last Friday's earthquake and tsunami. The number of dead is expected to go up as rescuers reach more hard-hit areas.
Concerns about the economic impact of the disaster in Japan, along with disappointing reports on the U.S. economy, sparked a sharp selloff Wednesday on Wall Street. The Dow Jones industrial average, S&P 500 and Nasdaq all ended at their lowest levels of 2011.
In the currency market, the yen has surged against the U.S. dollar on demand for safe-haven assets and speculation that more cash will flow back into Japan as it rebuilds. The dollar fell as low as 76.54 against the yen in late trading Wednesday, dipping under the previous all-time low of 79.75 set in April 1995.
A stronger yen could be a serious problem for Japan's export-driven economy, since it would undercut profits for companies that do business overseas. As a result, analysts expect the Bank of Japan to intervene in the currency market by selling yen if the currency does not fall back on its own.
Elsewhere in Asia, markets ended lower. Hong Kong's Hang Seng index dropped 1.8% while China's Shanghai Composite dipped 1.1%. European markets opened higher, while U.S. stocks were pointed to a higher open.