Rough day for stocks: S&P 500, Nasdaq erase year's gains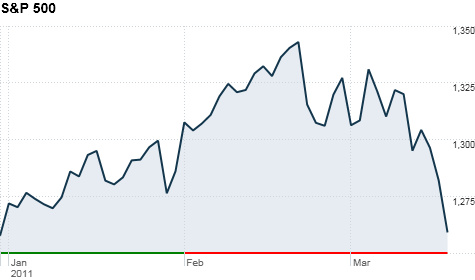 NEW YORK (CNNMoney) -- A sell-off in U.S. stocks accelerated Wednesday, with all three major indexes ending at their lowest levels of 2011.
The S&P 500 and Nasdaq composite erased their gains for the year, while the Dow is barely hanging on, up only 0.3% in 2011.
Trading was extremely choppy as investors tried to sort out disappointing U.S. housing data against the backdrop of developments in Japan.
It didn't help that European Union energy commissioner Günther Oettinger sounded a warning bell about increased risks related to Japan's crippled nuclear reactors at a meeting in Brussels.
Moreover, the U.S. Embassy in Tokyo cautioned American citizens who live within 50 miles of the damaged Fukushima Daiichi nuclear plant to evacuate or take shelter indoors.
"Today's not a good news day, and the market is reacting emotionally," said Fred Dickson, chief market strategist at D.A. Davidson & Co.
The Dow Jones industrial average (INDU) tumbled 242 points, or 2%, with all 30 components of the blue chip index in the red. IBM (IBM, Fortune 500), General Electric (GE, Fortune 500) and American Express (AXP, Fortune 500) led the decline. The index was down almost 300 points at its low for the day.
The S&P 500 (SPX) slipped 25 points, or 2%, to end at 1,256.88. The broad index closed 2010 at 1,257.64.
The Nasdaq (COMP) lost 51 points, or 1.9%, to finish at 2,616.82. The tech-heavy index closed at 2,652.87 last year.
Global concerns also pushed the dollar below ¥80 briefly, hitting ¥79.75, matching the record low hit in April 1995 (More on currencies).
Wall Street's most widely cited measure of volatility, the VIX (VIX), surged more than 20% to 29.40. Earlier, it climbed above 30 for the first time since July.
Dickson is advising his clients to get to the sidelines until the picture of the nuclear threat in Japan becomes clearer.
Wednesday's declines came on the heels of a sharp sell-off in the previous session, which was dominated by worries about Japan.
Japan in crisis: In a televised speech Wednesday, Japan's emperor told citizens not to give up hope as the country grapples with an epic earthquake.
"It's quite rare of the emperor to appear on television, and that has made investors a little nervous," said David Jones, chief market strategist with IG Markets in London.
Prior to the speech, Tokyo's Nikkei index rose 5.7%, rebounding from two days of losses that had drained more than 16% from the index.
The increasingly desperate situation at Japan's nuclear plants is keeping investors on edge.
Stunned by the devastation in Japan, they have been reducing their exposure to risky assets and flocking to investments that are considered safe, including U.S. Treasuries. Investors continued to buy up U.S. government debt Wednesday, sending the 10-year yield down to 3.23% from 3.32% late Tuesday.
Aside from Japan, Moody's Investors Service cut Egypt's rating by one notch, further into non-investment grade quality.
And late Tuesday, Moody's downgraded Portugal's credit rating from A1 to A3 -- a lower investment grade status. And Fitch downgraded Bahrain's debt to below investment grade, following a government clash with protesters.
Asian markets ended higher, with the Shanghai Composite index rising 1.2% and Hong Kong's Hang Seng index edging up 0.1%.
European markets closed sharply lower. The FTSE 100 dropped 0.8%, and France's CAC 40 and DAX in Germany tumbled more than 1%. (World markets)
Economy: The government said new home construction fell 22.5% in February, more than economists were expecting, while the number of permits for future housing construction fell 8.2% to all all-time low.
Separately, the government's Producer Price Index showed that prices at the wholesale level jumped 1.6% in February, which was much more than expected.
Commodities: Oil prices -- which fell nearly 4% on Tuesday -- were higher Wednesday, as concerns about the ongoing turmoil in North Africa and the Middle East were revived. Oil for April delivery gained 80 cents, or 0.8%, to settle at $97.98 a barrel.
Gold futures for April delivery climbed $3.30 to settle at $1,396.10 an ounce.