Stocks face 'tremendous' risks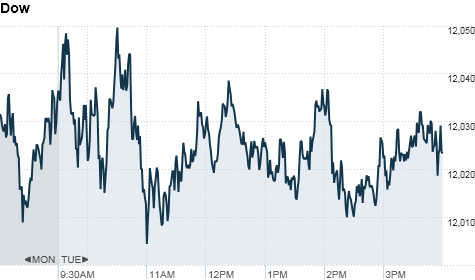 NEW YORK (CNNMoney) -- After three days of rallying to reclaim pre-Japan earthquake levels, U.S. stocks slipped back into the red on Tuesday. Fatigued investors took a step back and considered lingering problems in Japan and across the Arab world.
"There's still a lot of uncertainty, and the headline risks are tremendous," said Joseph Saluzzi, co-head of equity trading at Themis Trading. "The market rallied for three days assuming that the Japan crisis was over, but we don't have any solid new information. The news flow is constant."
The Dow Jones industrial average (INDU) finished 18 points lower, or 0.2%. The S&P 500 (SPX) fell 5 points, or 0.4%, and the Nasdaq composite (COMP) slipped 8 points, or 0.3%.
Investors refocused their attention Tuesday on rising oil prices amid increasing political turmoil in North Africa and continuing violence Libya and Yemen.
Oil for April delivery rose $1.67, or 1.6%, to settle at $104 a barrel. May delivery will become the front-month contract after the close of trading, and it's already the most active contract -- rising more than $1.88, or 1.8%, to settle at $104.97 barrel. Earlier, prices topped $105 a barrel.
"With oil above $100, each incremental dollar increase seems to be hurting equities more and more," Saluzzi said.
As events unfold in the Middle East and North Africa, investors will continue to monitor crude prices, said Jack Ablin, chief investment officer at Harris Private Bank.
"They want to see how high oil prices will move, and if the gains will be persistent," he said. "If oil prices stay where they are for a long period of time, the more likely they are to weigh on consumers worldwide."
The Dow finished Monday's session above the 12,000-point mark for the first time since the Japanese earthquake on March 11.
The Japanese stock market was closed Monday for a national holiday. On Tuesday, the Nikkei soared 4.4%.
In other Asian markets, the Shanghai Composite added 0.3%, while the Hang Seng in Hong Kong gained 0.8%.
European stocks finished lower. Britain's FTSE 100 fell 0.4%, the DAX in Germany ticked down 0.5%, and France's CAC 40 slipped 0.3%.
Economy: The Federal Housing Finance Agency's home price index fell 0.3% in January, following a 1% drop the prior month.
Companies: Late Monday, news reports revealed that Apple (AAPL, Fortune 500) had sued Amazon (AMZN, Fortune 500) in California federal court. In the complaint, Apple asked a judge to block Amazon from using the term "Appstore." Three years ago, Apple was granted a trademark on its own "App Store." Shares of Apple rose 0.6%, while Amazon's stock fell 1.2%.
Bristol-Myers Squibb (BMY, Fortune 500) was a strong gainer on the S&P 500. Shares were up 1% on heavy volume, after the company said an experimental drug extended the survival of previously untreated skin cancer patients.
A 6.6% drop in shares of Walgreens (WAG, Fortune 500) dragged on the S&P 500 -- despite the drugstore chain posting a 10% jump in fiscal second-quarter profit Tuesday morning, driven by prescription sales and a later onset to the cold and flu season.
Shares of Netflix (NFLX) gained 4%, after Credit Suisse boosted its rating on the movie rental company. Netflix was the biggest gainer on the tech-heavy Nasdaq.
Currencies and commodities: The dollar was slightly higher against the euro, lower versus the British pound, and flat against the Japanese yen.
Gold futures for April delivery rose $1.20 , or 0.1%, to settle at $1,427.60 an ounce.
Bonds: The price on the benchmark 10-year U.S. Treasury fell, pushing the yield up to 3.34%.