Market roller-coaster ride not over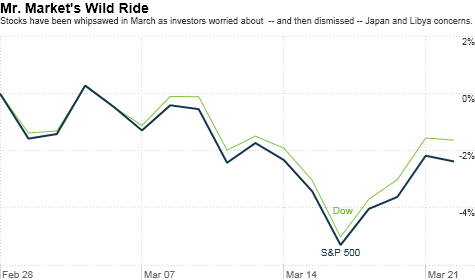 NEW YORK (CNNMoney) -- Forget about all the buzzer beaters and upsets in the NCAA basketball tournament. If you want real madness, check out the stock market this month.
Stocks have done the opposite of the popular animal-themed saying about the weather in March: they came into the month like a lamb and are going out like a lion.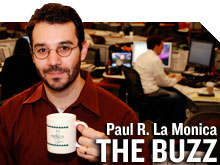 Investors dumped stocks in the early part of March due to the turmoil in Egypt and Libya, and the devastating earthquake in Japan. At its lowest point this month, the S&P 500 (SPX) was down as much as 6% from the end of February.
That sell-off pushed the S&P into the red for 2011. But the blue-chip index has come roaring back in the past few days, surging more than 3% in just the past 3 days to eke back into positive year-to-date territory.
So what now? The Japan nuclear crisis is far from over. Oil prices are still extremely high. And now Libya is being bombed.
Are investors being too glib by overlooking the many global concerns that spooked them only a week ago? Or was the market making too much fuss over radiation fears in Japan and Middle East upheaval in the first place?
It may be a little of both.
Andrew Fitzpatrick, director of investments with Hinsdale Associates in Hinsdale, Ill., said that he thinks there won't be a significant long-term impact from higher oil prices or that a slowdown in Japan will dampen corporate profits in the United States. He thinks stocks should rally beginning this summer.
Problem is that spring only started Monday. There could be a lot more volatility between now and the middle of June.
"Investors can't look past key global issues yet," Fitzpatrick said. "It was an overreaction Monday to think that the coast is clear and it's time to jump completely back into stocks. There could be more tough days ahead."
But another strategist argues that investors haven't gotten too exuberant just yet.
After all, it's not as if the market completely ignored Japan and Libya. And with fears about worst-case nuclear meltdown scenarios starting to subside, it is only natural for investors to breathe a sigh of relief.
"Japan will not be the death knell to the global economy that people thought," said John Norris, managing director of wealth management with Oakworth Capital Bank in Birmingham, Ala. "People aren't acting in a cavalier fashion yet. Investors are behaving prudently."
Individual investors may jump back into the market once they are willing to focus more on the fledgling recovery in the U.S. economy and less on the rest of the world.
Norris said investors are slowly becoming reacquainted with the notion that the best way to make money for the long haul is to be in stocks -- even if it means a lot of gut-wrenching volatility in the short-term.
"You can't just keep your money in a Folgers coffee can or say that all I want is gold. At some point, you have to take risks," he said.
But Linda Duessel, equity market strategist with Federated Investors in Pittsburgh, thinks many individual investors are still skittish.
She notes that trading volume in the U.S. has been fairly light as of late, a possible sign that the average investor has been sitting back and watching while day traders, big mutual funds and hedge funds move money around.
Duessel said that as long as the Japan nuclear situation doesn't deteriorate significantly and as long as the political unrest doesn't expand to Saudi Arabia in a major way (two admittedly big ifs), then investors should soon start paying more attention to U.S. economic data -- particularly reports about the labor market.
"For the U.S., it is all about employment. Continued signs of improvement in the job market would be the next catalyst to drive the market higher," she said.
But better jobs numbers over the next few months are obviously not a given. Some experts also wonder about how investors will react once the Federal Reserve's much-maligned (but apparently effective) bond buying program ends in June.
The program, often referred to as QE2 since it's the second round of so-called quantitative easing, has been credited (or blamed depending on your viewpoint) for helping fuel the market rally. It's highly uncertain whether the broader economy (and hence the stock market) needs more support from the Fed.
With that in mind, one strategist thinks investors may soon stop worrying about oil and Japan and start sweating the Fed.
"I'm not surprised by the recent market rebound, but I'd be a little surprised if stocks go higher from here in the next few weeks," said Brian Gendreau, market strategist with Financial Network Investment Corp., a Segunda, Calif.-based advisory firm. "The next hurdle will be when QE2 expires at end of June. Nobody's sure what will happen."
In other words, fasten your seat belts. The market's wild ride doesn't appear to be over yet. Not by a long shot.
-- The opinions expressed in this commentary are solely those of Paul R. La Monica. Other than Time Warner, the parent of CNNMoney, and Abbott Laboratories, La Monica does not own positions in any individual stocks.