Oil prices resume upward march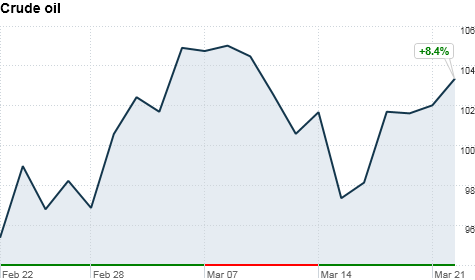 NEW YORK (CNNMoney) -- Oil prices moved higher Tuesday as investors focused their attention on the conflict in Libya and escalating tensions in Yemen.
Prices trended up, despite a report claiming oil supplies in the region have not been disrupted outside of Libya so far.
"Although the unrest in the Middle East and North Africa continues to keep the oil markets on edge, there are no further actual supply disruptions outside Libya," analysts at Societe Generale wrote in a note to investors.
Even if there is no current supply problem in crude markets, violence in Libya has the potential to put a long-term damper on the country's oil production.
"The ongoing turmoil has intensified, and creates a lot of unpredictability in the market," said Linda Rafield, senior oil analyst at Platts.
The benchmark U.S. contract, West Texas Intermediate, rose $1.67 to settle at $104.00 a barrel for April delivery. May delivery will become the front-month contract after the close of trade, and it's already the most active -- rising $1.88, or 1.8%, to settle at $104.97. Prices topped $105 a barrel earlier in the session.
Oil prices have surged more than 20% since mid-February, when pro-democracy movements reached Libya after sweeping North Africa and the Middle East.
While oil fell back slightly, following a deadly earthquake and subsequent nuclear crisis in Japan, it surged again Monday following reports that the United States and its allies had launched air attacks on Libyan defense systems over the weekend.
In its fourth day of Operation Odyssey Dawn, the U.S. fired 20 Tomahawk cruise missiles into Libya, hoping to end violence by pro-Gadhafi forces in the country.
"We think we have been very effective in degrading his ability to control his regime forces," Gen. Carter Ham, commander of U.S. Africa Command, told CNN.
Libya contributes about 2% of the 87.5 million barrels of oil the world consumes every day. Traders have been less concerned about Libyan production, and more about how far the problems will spread.
Regional unrest -- which has already forced out leaders in Tunisia and Egypt -- has also reached Yemen, Bahrain and Syria. Traders are concerned that if it reaches oil-rich areas such as the Persian Gulf, it could disrupt worldwide fuel supplies.
The Societe Generale report calmed investors' fears slightly Tuesday, stating that regional turmoil is adding a $15 to $20 risk premium to Brent oil -- but that should decline through the rest of the year.
Brent oil rose $1.06 Tuesday to trade at $115.48 a barrel.
Meanwhile, the nationwide average price for a gallon of regular unleaded gasoline slipped 0.2 cent to $3.547 on Tuesday, according to the motorist group AAA. Gas prices are about one cent lower than they were a week ago.