Why homebuilders may never fully recover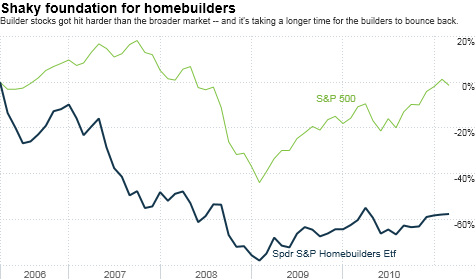 NEW YORK (CNNMoney) -- The housing market, to put it mildly, still stinks. But have homebuilder stocks finally hit bottom?
New home sales in February plummeted 17% from January to hit a record low. Year-over-year, sales were down 28%.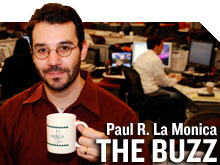 Still, shares of PulteGroup (PHM) were up 3% Wednesday afternoon thanks to an analyst upgrade at Goldman Sachs. Rival builders Ryland (RYL), KB Home (KBH), Lennar (LEN) and MDC Holdings (MDC) were all flat to slightly higher as well.
It could be a good sign that builders are hanging in there despite more bad news about housing sales.
"I'm not saying you should go buy a house because nobody knows where prices are going," said Ryan Detrick, senior technical strategist with Schaeffer's Investment Research in Cincinnati. "But even though the data is terrible, builder stocks are holding up."
Detrick said builders could be poised for big gains later this year since all it may take is just a whiff of positive news to drive them higher. He conceded this is a contrarian bet, however.
But investors may need to tread cautiously though.
We've been here before. Builder stocks rise on optimism that the worst is over -- only to find out the worst is yet to come.
Just last Tuesday, for example, builder stocks rose (despite broader market turmoil tied to Japan) because an index of builder sentiment ticked higher. A day later, the government reported housing construction permits hit an all-time low and builders fell.
There's a saying in the market about how investors should avoid stocks that continue to drop: Never try and catch a falling knife.
Sure, builders have been moving up lately. But anybody that's bought a builder in the past few years has been trying to catch a falling samurai sword.
Every time you thought that the housing market had finally hit bottom, there would be more bad news about home sales, orders or prices. Consequently, homebuilding stocks that may have looked "cheap" a few years ago are even "cheaper" today.
While the broader market is still up more than 10% from a year ago, the SPDR S&P Homebuilders ETF (XHB) has trailed the S&P 500's gains. That's astonishing when you consider just how badly the builders got beat up.
The S&P 500 (SPX) is now trading roughly where it was five years ago -- about the time the housing bubble was set to burst -- but the builder ETF is still nearly 60% lower than where it was in 2006.
It may be years before the builders completely recover, according to Merrill Ross, a housing finance analyst with Wunderlich Securities in Baltimore.
Ross argued that it will be much more difficult for younger people to buy homes because banks have tightened mortgage lending standards and are asking for larger down payments. She said builders need to adapt to a world where more people may choose renting over buying.
"If homebuilders could build rental housing and sell it to real estate investment trusts or other investors, they might benefit," Ross said. "But there isn't as much of a focus on single-family home ownership. More young people are looking to rent."
So investors should probably be wary of any builder stock rallies, especially if the only good news is an analyst upgrade from a big Wall Street firm. A guy going by the handle of jaythetrader at StockTwits has an appropriately cynical view of the Goldman call.
"$PHM GS upgrades so they can sell off to bigger fools," he tweeted.
Don't be one of those bigger fools. Homebuilder stocks aren't going to have a sustainable rally until the business of homebuilding really improves.
-- The opinions expressed in this commentary are solely those of Paul R. La Monica. Other than Time Warner, the parent of CNNMoney, and Abbott Laboratories, La Monica does not own positions in any individual stocks.