Supply crunch on black and red Fords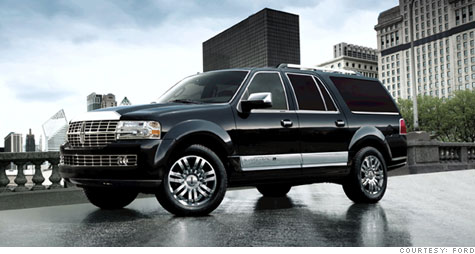 NEW YORK (CNNMoney) -- Henry Ford once said, "Any customer can have a car painted any color that he wants so long as it is black."
But today, as Japanese suppliers scramble to come back on line after the devastating earthquake and tsunami, Ford Motor Co. is asking its dealers to order trucks and SUVs in any color but black.
Specifically, Ford (F, Fortune 500) is asking dealers not to order any new full-size pick-ups or SUVs in so-called Tuxedo Black because of a problem getting a paint ingredient from a supplier in Japan. The automaker is also scaling back, but not stopping, its use of Tuxedo Black on mid-sized SUVs and the large Ford Taurus and Lincoln MKS sedans.
Red's a problem, too. Ford is scaling back three shades of red on SuperDuty and Ranger trucks, Focus compact cars, Econoline vans and Lincoln Navigator SUVs.
A Japanese supplier provided a patented substance called Xirallic, used to give the red and black paints a slight metallic glitter. Ford is working with its paint supplier to find another substance that can be mixed in, instead, spokesman Todd Nissen, said.
"To be clear, though, all these vehicles and colors are available now," Nissen said in an email. "We have adequate inventories on dealer lots to meet consumer demand."
Ford's restrictions on the use of black paint is ironic since Ford Motor Co. famously allowed its iconic Model T cars to be ordered only in black for several years in the early 1900s. That decision was made to simplify mass production and because the black lacquer -- then called "Japan Black" -- dried faster than some other colors. There was no actual connection between "Japan Black" and the country of Japan, though.
While Japanese automakers have had to close plants in Japan due to massive earthquake damage, disruptions have also been caused worldwide by damage to Japanese auto parts suppliers.
U.S. automaker General Motors has already had to stop production of a truck plant in Shreveport, La. and a related engine plant in New York State due to shortages of parts from Japan.
Prices of cars are expected to rise as the supply of many popular models is restricted by factory and supplier problems.