Japan earthquake impact hits U.S. auto plants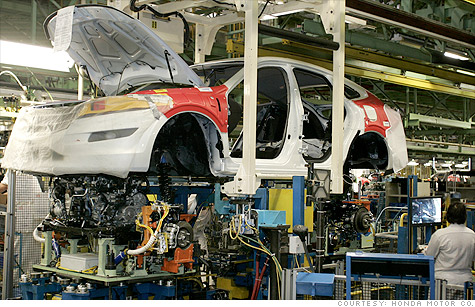 NEW YORK (CNNMoney) -- Japan's deadly earthquake and tsunami have created problems for the global auto industry that are expected to peak here in the U.S. within the next few weeks, analysts say.
The biggest problem is a lack of key parts sourced from Japan.
"The issue of potential supply shortage is a top global priority," Morgan Stanley said in a recent report. "Even a missing $5 part can stop an assembly line."
The parts crunch is likely to become critical in April and early May, analysts at Morgan Stanley and IHS Automotive said.
More auto factories in the U.S., starved for parts from Japan, may be forced to shut down or seriously scale back production over the next few weeks, analysts said.
Big production slowdown. What's next? Beginning Wednesday Honda will slow down production at its U.S. auto plants. Factory workers have the choice of taking paid vacation, unpaid time off or showing up as normally scheduled, spokesman Jeffery Smith said.
Workers that show up for their shifts could be producing cars for part of the time or doing other things, like training or equipment maintenance, for the rest of the time.
Honda says it will continue to produce all the makes and models it now builds in North America, but at a reduced rate.
Morgan Stanley analysts said on a conference call Tuesday that Honda has about three weeks of parts available for that automaker's non-Japanese factories. Honda spokesman Smith called Morgan Stanley's estimates "pure conjecture."
Honda's own Japanese final assembly plants, where full vehicles are produced, have been off line since the March 11 earthquake.
Toyota recently told its factory workers in North America to prepare for possible plant shutdowns.
Japanese automakers employ 50,000 factory workers in the U.S., according to the Japan Automobile Manufacturer's Association.
All automakers are struggling to deal with the loss of key automobile components from Japanese parts suppliers.
"It's a significant effort we've got going on here to work with suppliers to ensure we've got adequate supplies of parts," Ford Motor Co. spokesman Todd Nissen said.
Both Chrysler and General Motors said they are closely monitoring their supply lines.
While Ford's Nissen insisted this type of scrambling isn't out of the ordinary -- a variety of parts and logistics problems arise all the time -- the scope and depth of the problems caused by the Japan earthquake are unprecedented, analysts said.
It's not just widgets. The biggest problem is that the parts many of these Japanese companies produced weren't just ordinary plastic and rubber bits that can be made anywhere, analysts say.
Instead, the parts shipped from Japan tend to be hi-tech electronics or specialized products that involve patented production processes.
Robinet gave the example of LCD film used for liquid crystal displays inside cars.
"There was a lot of it coming out of Japan because they were the most efficient at building it," he said.
Japanese companies also specialized in making the array of highly specialized computer chips that control everything from the engine to the brakes in modern cars. Computer chip production is a complex process that can take weeks and involves hundreds of individual steps, Morgan Stanley analyst Noriaki Hirakata said.
Not only that, but if an automaker is forced to find a new source for an electronic chip, the process of "certifying" a new computer chip supplier -- that is, determining that a new company can meet all the requirements for cost, quality and quantity -- can take as long as a year, Hirakata said.
In a worst-case scenario, Robinet said, global auto production by non-Japanese automakers could be reduced by as much as 30% by the middle of May. Production by Japan-based automakers would, of course, be cut back even more.
Jessica Caldwell, an analyst with Edmunds.com, called IHS's dire projections that projection overly pessimistic. Automakers do have stockpiles of parts they can tap to bide their time.
"You have enough to time to work through shortages that can possibly occur," she said.
Robinet disagreed. Even if an automaker can somehow find ready replacement sources for 19 of 20 parts that were cut off from Japanese suppliers, one missing part is all it takes to shut down a production line.