Stocks in 2011: Brace for a bumpy road higher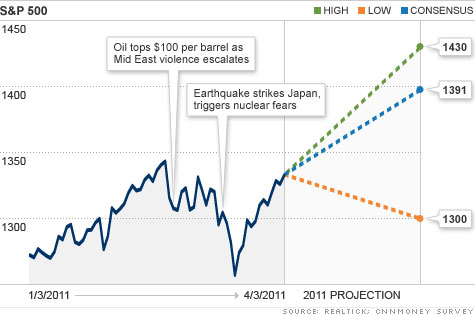 NEW YORK (CNNMoney) -- It's been a volatile first quarter, but that's not deterring Wall Street experts, who expect stocks to continue trending higher for the remainder of the year.
Most market strategists are calling for the benchmark S&P 500 (SPX) index to rise an average of 4% over the next three quarters to end 2011 near 1,400, according to an exclusive CNNMoney survey. That would leave the market up about 11% for the year.
Even a good number of the experts who were cautious with their initial forecasts back in December are more upbeat.
"Stocks have withstood all of the external shocks much better than anticipated, including poor weather earlier this year, high oil prices with turmoil in the Middle East, the earthquake and nuclear crisis in Japan and debt problems in Europe," said National Securities chief market strategist Donald Selkin, who raised his forecast by 20 points to 1,370.
It hasn't all been a bed of roses. The market did take a hit, with stocks dropping more than 6% from mid-February through mid-March. But stocks have regained their momentum and are now up 6% from the start of the year, once again nearing the highest levels since July 2008.
Much of the support is being fueled by the economic recovery, said Selkin, citing an unemployment rate that has hit its lowest level in two years and manufacturing activity that's expanded at its fastest pace in nearly seven years.
If the economy keeps revving up, some experts think there's even more room for stocks to soar, especially if corporate profits continue to improve.
"Global growth seems to be continuing, so earnings are likely to keep edging higher," said Steven Goldman, market strategist at Weeden & Co., adding that the industrial sector should deliver particularly healthy profits since that sector will benefit the most from the growing demand for infrastructure in emerging markets.
Goldman, who is the most optimistic with a year-end target for the S&P 500 of 1,430, also said that stocks remain the most attractive bet against the current backdrop of lower returns from Treasuries and other asset classes.
Though all the market strategists surveyed agreed that stocks will end the year in positive territory, it will be far from smooth sailing.
"It will be a turbulent ride to the end," said Brian Gendreau, market strategist at Financial Network, who puts the S&P 500 up 11% for the year. "The market is still facing plenty of hurdles, with the most serious being higher oil prices, and investors are apprehensive."
Gendreau thinks oil prices will stabilize as the situation in the Middle East improves and speculative trading eases, but one survey respondent cut his year-end target for the S&P 500 amid concerns that high oil prices will cut into consumer spending.
"Higher oil prices will serve as a cost to consumption and trim economic growth," said Mark Luschini, chief investment strategist at Janney Montgomery Scott. He lowered his S&P 500 target to 1,350 from 1,400.