Biggest market risk: Middle East turmoil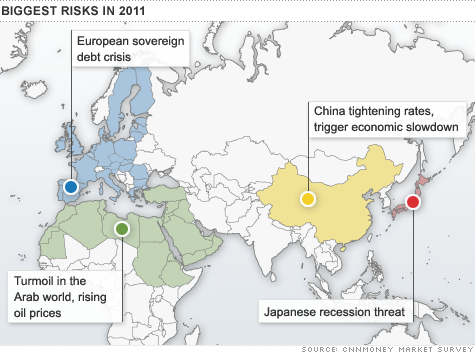 NEW YORK (CNNMoney) -- No one saw it coming. As champagne corks popped and confetti swirled to usher in 2011, most experts pointed to Europe's ongoing sovereign debt crisis as the market's biggest hurdle this year.
But all that changed in January, when violence and chaos heated up across the Arab world, starting with massive protests that toppled Tunisia's longtime authoritarian leader. It didn't end there: Egypt, Libya, Nigeria and Saudi Arabia are among the hottest spots right now, and not in a good way.
Experts now cite the escalating political turmoil in the Middle East and North Africa, and its impact on oil prices, as the biggest threat to the market, according to an exclusive CNNMoney survey.
The unrest has already triggered a nearly 20% spike in crude prices this year, amid fears that the revolts will spill over into other oil-rich countries and disrupt supplies.
"The liberalization movement has a life of its own, and my main concern is that it will spread and ultimately draw in Saudi Arabia," said Peter Tuz, president at Chase Investment Counsel, who is among the 60% of survey respondents who identify the Middle East situation as the biggest headwind.
Experts worry that that the proliferation could push oil prices back up to the record highs of near $150 a barrel set in 2008. That could derail the economic recovery, and in turn, put a serious crimp into the stock market rally.
"We've already heard some segments of corporate America express concern over profit margins at the current level of oil prices, and another $40 [a barrel] would exacerbate the situation," Tuz said.
Moreover, higher oil prices keep pressure on gasoline prices, which are already up 20% year-to-date at an average of $3.685 a gallon. Higher gas prices will inevitably have a deep impact on consumer spending.
"So far, people have tolerated the spike in gas prices, but discretionary spending really takes a swoon in an environment with gasoline at $4 a gallon," Tuz said.
Aside from the Middle East, experts are still worried about Europe's ongoing sovereign debt crisis.
A handful of respondents, including Fort Pitt Capital Group's senior equity analyst Kim Caughey Forrest, say it's a bigger concern than the problems in the Middle East.
"Banks in Europe hold a large chunk of the sovereign debt, and if sovereign entities default on their loans or come close, banks will have to take a haircut and lend less money to businesses and individuals that need it to grow," she said. "That risks a credit crunch and limits global economic growth."
Even with all those headwinds, there remain optimists, such as National Securities chief market strategist Donald Selkin, who thinks the market has already shown it can weather those risks.
"So far, [the risks] have not done that much to impede the ongoing recovery here," Selkin said. "I'm most concerned about China tightening rates, because if their economy slows down from its projected growth forecast, that could have a ripple effect on other parts of the world."
On Tuesday, China's central bank hiked interest rates for the fourth time in six months in an effort to combat inflation in the country.