The real black gold. Hint: It's not oil
NEW YORK (CNNMoney) -- The coal mining industry is controversial to say the least.
Many environmentalists are against the practice of mountaintop removal mining. And in case anyone forgot how dangerous the business can be, today is the one-year anniversary of the tragic explosion at the Upper Big Branch mine in West Virginia that killed 29 workers.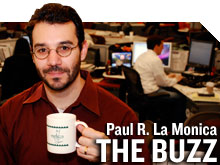 But investors have recently taken a shine to coal stocks. The Market Vectors Coal ETF (KOL), an exchange traded fund that owns the major miners, is up more than 13% since March 11.
That was the day of the massive earthquake and tsunami in Japan. Fears of meltdowns at nuclear reactors in Japan has caused many governments (and investors) to reconsider the viability of nuclear power as an alternate to oil.
Mark Levin, a senior analyst with BB&T Capital Markets in Richmond, Va., added that coal prices in Europe have already shot up after Germany decided to temporarily shut down seven nuclear plants that were built before 1980.
Solar energy stocks and other "clean energy" firms have also benefited from nuclear worries. But some say that coal companies are the ones that really stand to gain the most from any change in energy policies.
"More people are questioning the use of nuclear, and coal is probably the only viable alternative for electricity other than natural gas," said Scott Barbee, manager of the Aegis Value Fund (AVALX) in Arlington, Va. The funds owns two smaller coal companies, Patriot Coal (PCX) and International Coal. (ICO)
Barbee added that nuclear worries are just one reason why coal stocks could go higher in the short-term. He said that massive floods in Australia earlier this year created supply disruptions in mines there. That could push prices (and mining stocks) up further.
It's also worth noting that oil prices are hovering at around 30-month highs. And coal is a fossil fuel like petroleum and natural gas. That means that if oil keeps climbing, be it to stronger demand or supply fears tied to Libya, expect coal to do the same.
"The other thing that is helping coal stocks beyond the nuclear talk is that coal prices are so tied to the price of oil," said Christine Tezak, senior energy and environmental policy analyst with Robert W. Baird & Co. in McLean, Va.
The coal sector, like many others in the market, also may get a lift from takeover speculation. Massey Energy (MEE), the owner of the Upper Big Branch mine, agreed to sell itself to rival Alpha Natural Resources (ANR) in late January for a healthy 21% premium.
Barbee said that the expectation of even more coal deals do appear to be priced into smaller stocks like Patriot and International Coal. Levin agreed, but he said he also likes some of the industry's biggest players that may do the buying, most notably Alpha and Peabody Energy (BTU, Fortune 500), as good long-term investments.
However, there are many big risks for anyone looking to invest in coal. Given how well coal stocks have done lately, Levin said that he would not be surprised if the whole group pulls back in the next month or so as companies report first-quarter results.
There are some longer-term issues as well. The coal mining industry is probably never going to escape the glare of local, state and federal government agencies because of the safety and environmental concerns.
Levin said that higher regulatory costs are "part of the new reality" following the disaster in West Virginia a year ago. In fact, those concerns are the reason coal stocks were pummeled last spring. The Market Vectors Coal ETF plunged nearly 30% between last April and late May before recovering.
Of course, that created a great buying opportunity. Barbee said that he bought Patriot last year because it fell along with Massey in the wake of the mine tragedy. But it also highlights how volatile the business is.
And on a more macro-economic level, it may be time to start worrying if China and other emerging markets in Asia kill the coal party. China's central bank raised interest rates again Tuesday in a move to help fight inflation.
China is a big importer of coal. Tezak said that China's appetite for coal is one of the biggest factors behind the enthusiasm in coal stocks.
So a noticeable slowdown in China's economy could hurt the miners significantly -- especially if other developing markets follow suit.
"Approximately 90% of coal demand comes from Asia," said Levin. "At the end of the day, the coal story comes down to China and, to a slightly lesser extent, India."
-- The opinions expressed in this commentary are solely those of Paul R. La Monica. Other than Time Warner, the parent of CNNMoney, and Abbott Laboratories, La Monica does not own positions in any individual stocks.