Pump up the volume? Traders on vacation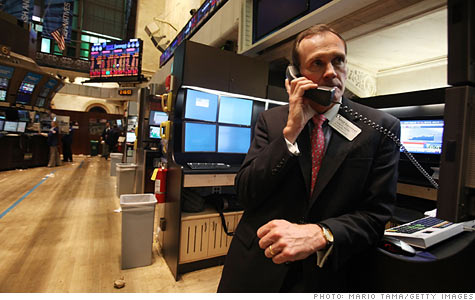 NEW YORK (CNNMoney) -- So much for selling in May and going away. This year it looks like many on Wall Street have already decided to kick back -- even though it's still a little too cold to be heading to the beach.
Average trading volume for stocks on the New York Stock Exchange in March was the lowest since December 2009, according to research from brokerage firm LPL Financial.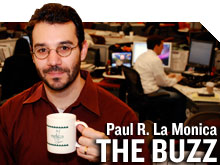 That's comically light when you consider how much news there was: a massive earthquake and tsunami in Japan, more political unrest in the oil-rich North Africa and Middle East regions and several high-profile mergers just to name a few.
Of course, low volume didn't lead to a down market last month like it often does in the sleepy summer months.
Despite a nasty dip shortly after the Japan disaster, the Dow still wound up finishing last month in positive territory. (Buy in March and go visit the St. Louis Gateway Arch? Doesn't exactly roll off the tongue.)
So why are traders holding tight? And is that a good sign or a cause for concern?
Unfortunately, the simple answer is that there's no way to tell if anemic volume means a big sell-off is looming or if the rally will keep chugging along.
But the slowdown is an indication that some big investors would rather hang on for more data about the U.S. economy and a better idea of how the events abroad will impact the global economy before making any major trading commitments.
With stocks continuing to go up even though there are growing doubts about how much longer the rally can last, that's a tough environment for active traders.
"There is this paralysis among hedge funds," said Jay Lefkowicz, technical strategist at Concept Capital in New York. "If you're short, you lose and if you sell your longs, you lose. So people are just waiting. What else is there to do?"
The low volume isn't limited to the stock market either. Bond trading has been fairly light too. William Cunningham, co-head of global active fixed income at State Street in Boston, said this is a rational response to all the unanswered questions facing the market.
It may be trite to say that the market hates uncertainty. But it also happens to be true. There are a lot of unknowns out there right now.
Will the problems in Libya spread to Saudi Arabia? Perhaps. Will the federal government avoid a shutdown? Kind of a toss-up. Will an expected interest rate hike from the European Central Bank make problems in Europe worse or actually help nip inflation in the bud? Your guess is as good as mine.
"I don't think low volume is a positive or negative. It's neutral and reflective of uncertainty rather than a sign of things to come," said Cunningham. "In times like this, it makes sense to just sit and let events come to you."
But not everyone is buying the idea that traders are in a holding pattern. Randy Frederick, director of trading and derivatives at Charles Schwab in Austin, Texas, said it's misleading to look just at NYSE, or even Nasdaq trading volume.
He points out that there has been a pickup in trading of commodities, futures and options. With more choices for investors, you can't conclude that volume is light just because investors aren't trading stocks as much.
This explosion in alternative assets is one reason why exchanges are rushing to pair up with each other. The London Stock Exchange and Toronto Stock Exchange agreed to merge in February.
That deal was followed by the news that the NYSE Euronext (NYX, Fortune 500) planned to merge with Germany's Deutsche Boerse. And just last week, Nasdaq OMX (NDAQ) and Intercontinental Exchange (ICE) announced an unsolicited joint bid for the NYSE.
"We really haven't seen a noticeable slowdown in trading," said Frederick. "It's more a case of there being a lot of competitors grabbing the overall volume."
Frederick added that what appears to be going on is that investors are just simply being cautious, as opposed to nervous. And that is a good thing. He said that he thinks investors are preparing for the slew of earnings reports in the next few weeks and that volume will pick up then. The rest may just be short-term noise.
"Unless things really get out of hand in the Middle East, the reality is people on Wall Street may yawn," he said. "The fact that Democrats and Republicans are fighting is something that has gone on for years. Traders don't' care."
Of course, the problem with that argument is that traders may not care now but they will decide to care later. Investors may be factoring in a resolution of the budget talks and oil prices not going much higher than where they currently are.
If those assumptions are wrong, volume could pick up in a heartbeat. And it may not be pretty.
"Those wishing for more volume should be careful what they wish for since a rebound in trading volume may come with the return of volatility rather than further steady gains," wrote LPL Financial chief market strategist Jeff Kleintop.
-- The opinions expressed in this commentary are solely those of Paul R. La Monica. Other than Time Warner, the parent of CNNMoney, and Abbott Laboratories, La Monica does not own positions in any individual stocks.