Electric car's dilemma: The plug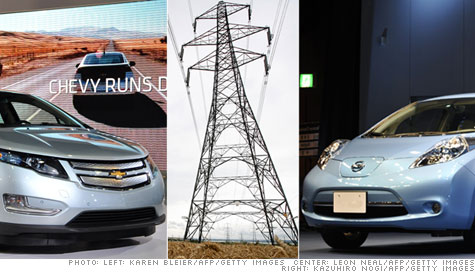 LAGUNA NIGUEL, Calif. (CNNMoney) -- Charging electric cars will be a vital part of the consumer experience, and the auto industry knows making the experience as easy as possible is crucial to the cars' success.
In a bid to avoid the eight million different types of chargers available for mobile phones -- and the resulting frustration among consumers -- the industry is working hard to standardize plugs for new electric vehicles.
There are currently about seven different types of plugs and sockets worldwide for car charging, according to Tom Baloga, an executive at BMW -- much better, he said, than the 20 or so there could have been.
"There has been a great collaboration among the industry to standardize as much as possible," Baloga said during a roundtable discussion Tuesday at Fortune's Brainstorm Green conference.
The industry is also working on ways to make electric cars more friendly for city dwellers, who don't often have the luxury of a garage and nearby electric outlet to plug in a vehicle.
Among the devices in the works are portable charging pedestals that could be anchored in parking lots or even on side streets.
The panel, which included executives from BMW, General Electric (GE, Fortune 500) and CODA, among others, debated the merits of charging company Better Place's system.
Under Better Place's model, consumers don't buy the actual battery. Instead, they use service stations where the battery is swapped out in a matter on minutes, eliminating the charging process for the consumer all together.
The panelists thought the concept will take off in certain places, notably Israel where the company's founder is from, and among some fleet vehicles like taxis.
But they also felt building the infrastructure is expensive, and fast charging batteries could endanger its business model.