Stocks fall slightly following Japan quake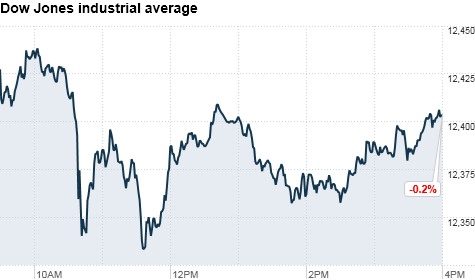 NEW YORK (CNNMoney) -- U.S. stocks fell slightly Thursday after Japan was hit with another major earthquake and the price of oil rose above $110 a barrel.
The Dow Jones industrial average (INDU) fell 17 points, or 0.1%, to 12,409; the S&P 500 (SPX) dropped 2 points, or 0.2%, to 1,334; and the Nasdaq Composite (COMP) lost 3.6 points, or 0.1%, to 2,796.
A 7.1-magnitude earthquake occurred off the coast of Japan shortly after 10:30 a.m. ET, only a few miles west the March 11 earthquake. The news sent the Dow down as much as 95 points, but stocks slowly recovered throughout the afternoon.
"This just adds more uncertainty and more concerns about how long it's going to take for Japan to get back on its feet," said Paul Zemsky, head of asset allocation with ING Investment Management. "We're already dealing with these supply chain problems, and this could just make it worse."
Japan's news agency NHK issued a tsunami warning that was lifted two hours later, with no reports of major damage. And the troubled Fukushima-Daiichi nuclear power plant did not experience any further damage, according to NHK.
Also weighing on the market were oil prices, which rose above the $110-a-barrel mark in afternoon trading. Oil for delivery in May rose $1.41, or 1.3%, to $110.24 a barrel - it's highest level since September 2008.
"With this earthquake and oil, there's no fuel for this market to go higher," said Stephen Carl, head trader at Williams Capital.
Investors mostly took a cautious approach ahead of earnings season, which has its unofficial kick off Monday, when Dow component Alcoa (AA, Fortune 500) reports.
"There are a lot of things that could influence the market right now -- oil, Libya, a budget deal out of Congress -- but corporate earnings are going be the catalyst to get stocks going higher," Zemsky said.
With the S&P 500 continuing to nudge up against the key 1,340 level, Financial Enhancement Group market analyst Joe Clark said investors are feeling a stronger pull toward selling and are just waiting for a reason to follow through.
The 1,340 level on the S&P has been a resistance point for stocks since mid-February, when the S&P 500 hit its high for the year.
U.S. stocks closed higher Wednesday, as strength in the technology sector offset weakness in energy producers and industrial companies.
Government Shutdown The Securities and Exchange Commission said Thursday that, in the case of a Federal Government shutdown, the SEC will function with "an extremely limited number of staff" and only basic investor services will be available.
The SEC will continue to accept securities filings, but available services related to filings will be limited. The SEC also said it will continue to investigate fraud and securities violations, but may only be able to respond to a limited number of incidents.
Economy: Investors are also mulling Thursday's decision by the European Central Bank to raise its key lending rate to 1.25%.
Like the Federal Reserve, the ECB and Bank of England have each kept interest rates at historic lows for the past three years as a way to spur economic activity following the financial crisis and subsequent recession.
But rising energy and food prices have raised fears that inflation could be become unwieldy, at a time when economic growth is still sluggish. Central banks use higher interest rates to deal with inflation, but higher interest rates also slow economic growth.
Meanwhile, the Labor Department reported the number of people filing claims for first-time unemployment benefits fell by 10,000 to 382,000 in the latest week.
Companies: Retailers were among the biggest movers as dozens of companies reported March same-store sales.
JC Penney (JCP, Fortune 500) and Nordstrom (JWN, Fortune 500) shares were among the top performers on the S&P 500 on better-than-expected sales reports. Gap (GPS, Fortune 500) shares fell 2% after the retailer reported a 10% decline in sales.
Pier 1 Imports (PIR) reported earnings of 48 cents per share, beating analyst estimates by a penny. Shares rose 9%.
Bed Bath & Beyond (BBBY, Fortune 500), said it earned $1.12 per share in its fiscal fourth quarter, far outdoing the 97-cent per share profit analysts had predicted. Shares rose 11%.
Constellation Brands' shares jumped 7% after the wine and spirits maker reported better-than-expected earnings
World markets: European stocks turned lower after the earthquake news. Britain's FTSE 100 lost 0.6%, the DAX in Germany fell 0.5%, and France's CAC 40 fell 0.5%.
Asian markets ended mixed. The Shanghai Composite rose 0.2%, and the Hang Seng in Hong Kong was flat.
Japan's Nikkei rose 0.1% after the Bank of Japan kept interest rates unchanged but set up a $11.73 billion special funding facility for banks affected by the March 11 earthquake.
Currencies and commodities: The dollar rose against the euro and the British pound but fell against the Japanese yen.
Gold futures for June delivery rose 80 cents to $1,459.30 an ounce, a day after hitting a new intraday record of $1,463.70 an ounce.
Bonds: The price on the benchmark 10-year U.S. Treasury edged lower, with the yield at 3.55% compared with 3.56% late Wednesday. Bond prices and yields move in opposite directions.