Government shutdown threat paralyzes contractors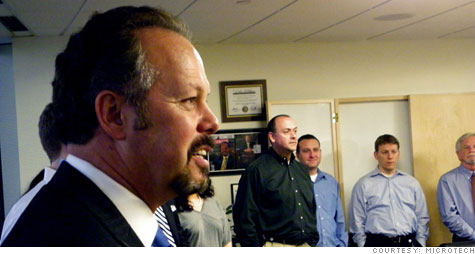 NEW YORK (CNNMoney) -- MicroTech CEO Tony Jimenez is 24 hours away from sending his 400 employees home for the weekend -- with no idea when, or if, they'll be able to return to their jobs.
"This is just not something you build into your business plan," he says of the government's looming shutdown.
MicroTech, based in Vienna, Va., is one of the thousands of government contractors whose workers function as ad hoc federal employees. Jimenez's employees work on site at agencies including the Department of Defense, Social Security Administration and Veterans Affairs -- and they have no idea what to expect if the government shuts down at midnight on Friday.
The government's 2 million civilian workers -- up to 800,000 of whom would likely be furloughed -- are also in the dark, wondering if their jobs count as "essential" and if not, if they'll be paid retroactively for the days they're barred from working. For contractors, the uncertainty is even worse.
"We have contracting officers [at the agencies], but they don't really know what's going to happen, and until they know they can't tell us anything," Jimenez says. "Some of our people won't be able to work -- we're hoping not everybody. We have folks supporting the military. You can't just shut that down. But we also have contracts we're convinced will be turned off."
Jimenez founded MicroTech in 2004, after a stint in the military and a subsequent career with the government as a military contracting officer. The company has grown quickly, landing $180 million in contracts last year to provide IT series to dozens of government agencies. That's a big revenue stream -- but not so big that MicroTech will be able to skate through a shutdown unscathed.
"It's really a lot different for a company like mine, because we're a lot smaller than the Northrop Grummans or the SAICs, who are obviously bigger and in a better position to weather a storm like this," he says.
Lani Hay, another IT contractor who heads a small business, plans to treat the shutdown like a blizzard -- literally. Her company, Lanmark Technology in Vienna, Va., will use its snow day policies. Employees who have accrued vacation time will be asked to use that. Those who don't can borrow against some of their future leave. If neither of those options works, the employee will have to take a leave without pay.
She's still waiting to find out how many of her workers would be on hiatus. She estimates that around 25% of her 200 employees would be considered key personnel by their contracting agencies and be kept on through a shutdown -- but the details are fuzzy.
Agencies are beginning to fill their own workers in on their contingency plans, but "I haven't seen anything that speaks to the contractor support specifically," Hay said.
Jimenez is carefully eying his credit lines, available cash and accounts receivable to figure out how MicroTech will manage if the money stops coming in. It's not just the lost revenue from stalled work he's worried about. If the government's financial officers aren't around to cut checks, MicroTech won't get paid for invoices it submitted 30 or 60 days ago.
Congress and the White House have been playing chicken over the federal 2011 budget for going on seven months now. That long stretch of uncertainty has already taken its toll on companies whose businesses are built around government sales.
Software vendor ImmixGroup, based in McLean, Va., is a middleman in the government contracting market. It holds contracts with dozens of agencies, through which it helps other vendors and IT firms sell their products and services
"Things were going along pretty well through the first quarter," says Steve Charles, co-founder and executive vice president at ImmixGroup. "But as things became less and less certain, through February and then definitely in March, we saw big deals being held up. Those deals almost froze."
If the government shuts down, no buying or selling will happen.
Charles says he's not too worried about that, largely because he doesn't expect any shutdown to last longer than a few days or a week. ImmixGroup plans to keep paying all of its 185 employees and put them to work on internal projects while it waits.
But the government's budget paralysis has definitely shaken up ImmixGroup's usual sales cycles. Normally, there's a big buying surge in March, as the government's fiscal year (which begins in October) hits its six-month mark. That didn't happen this year.
And if there is a shutdown -- which would end only when a 2011 budget finally gets approved -- Charles expects a spending frenzy after the government's operations resume. Agencies that have been in limbo all year would know how much money they have to spend. And they'll have less than six months to get it all spent.
"It's going to be a mad rush," he predicts.
That's a pretty dysfunctional way to run an organization with an annual budget topping $3 trillion.
Lanmark Technology's Hay is sanguine about the shutdown threat.
"It's a part of doing business with the government," she says. "Things like this are built into our planning."
But it irks Jimenez, who wishes his congressional representatives faced the same uncertainty about their jobs and their paychecks that his workers will.
"Here we are talking about an economy that's finally on the mend, and what we're going to do is give it a nice shot in the head with a hammer," he says. "There will be companies -- fortunately not ours -- that will be so adversely affected by this shutdown that they will not be able to open again in the end. Had this happened to us five or six years ago, it would have closed our doors."