Who gets paid in a shutdown? Congress!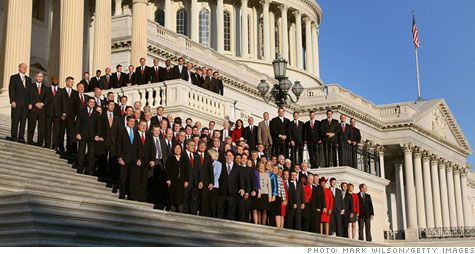 NEW YORK (CNNMoney) -- If lawmakers can't agree on a spending bill before the clock strikes midnight, a couple million federal workers won't be getting paychecks on time. Troops fighting in Afghanistan won't be paid on time either.
Some 800,000 workers likely to be furloughed aren't guaranteed back pay.
You know who will get paid? Members of Congress and President Obama. And their checks will arrive right on time.
The salaries paid to lawmakers and the president are financed through mandatory appropriations. And that part of the budget won't be affected by the shutdown.
That's right. The folks responsible for the shutdown won't feel any of the pain they are dishing out to federal workers, or even their own staff members, who won't be paid.
Rank-and-file members of the House get paid $174,000 a year. The top members of each party earn even more. And Obama is paid $400,000 a year.
For image conscious lawmakers, this presents quite a problem.
And so it's easy to understand the flurry of bills in the House and Senate over the past few months that would prohibit lawmakers from being paid in the event of a shutdown.
The Senate passed a stand-alone bill last month that would have done just that. Twenty-one senators wrote a letter to House Speaker John Boehner asking him to move the bill through the House. The bill was never voted on.
On Friday, Boehner alerted House members that he would return his own paycheck and explained how others could do the same.
At issue is the 27th amendment, which prohibits laws about lawmaker compensation from taking effect until the following congressional term.
The failure of lawmakers to change the status quo has led some members of Congress to pledge their salaries to charity or give the money back to the Treasury.
More than twenty members have signed a letter circulated by Sen. Joe Manchin of West Virginia that asks members to forgo their pay.
"I can't imagine that the president, vice president or any member of Congress -- Republican or Democrat -- thinks they should get paid when the government has shut down," Manchin writes in the letter.