Nissan Leaf: 3 days, no plug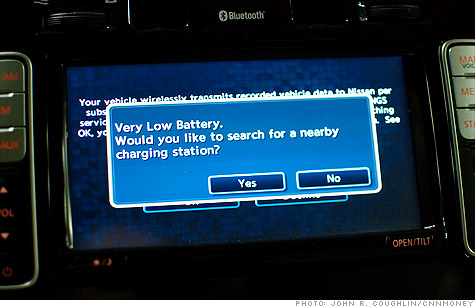 NEW YORK (CNNMoney) -- By the time I got in the Nissan Leaf that I'd be driving for the weekend, I already knew I had a problem. I would be driving my family in an electric car, but I had nowhere to plug it in.
I'd done the math, though, and I figured we'd be OK. The Leaf's got a 100-mile battery. I needed 10 miles each way to safely make it home and back from my office. That left 80 miles and we had no long trips planned. A cake walk.
Except the car, delivered with a full battery, showed only 70 miles of range. The Leaf had been brought to my office in a truck. (Yes, carrying an electric car in a truck does somewhat diminish the environmental benefits, but Nissan wanted to give me full use of that charge.) I should have had 100 miles, or at least 80, I thought. But, no, I was getting 70.
Well, I figured, this just means I'll have to take it very, very easy. Like most electric and hybrid cars, the Leaf has visual aids to coach you in efficient driving techniques. When you take it easy on the "gas" and brakes, tiny white pine trees appear on the dashboard display, growing layer by layer like artificial Christmas trees being assembled as you drive.
I'm just going to be the Johnny Appleseed of little LCD Christmas trees, I told myself. I'll be fine.
Then I started driving and things suddenly looked worse. Instead of going down gradually, the range dropped fast and hard. The battery was being drained like a Budweiser keg at a frat party. In a just few blocks, 70 miles turned to 65.
Fortunately, things got better as I drove farther and my range even popped back up a bit occasionally.
Later, I figured out why this was happening.
First, battery range is based on one's overall average miles-per-kilowatt-hour. So that 70 miles was actually based on a previous driver's habits. My range, I later learned would be, well, different. Also, using climate control just kills your driving range, especially when you first get in the car.
Those who charge the Leaf at home can heat or cool the interior while it's still plugged in, avoiding strain on the battery. Unfortunately, as I'd learned during a week-long stint with the Chevrolet Volt, plugging in wasn't an option for me. The electrical set-up where I live isn't amenable to car charging.
By the time I got home, the Leaf told me I had a little over 60 miles to parcel out over the weekend.
Saturday would be a killer day, I knew. My son had a music class in the morning and a performance in the afternoon -- in opposite directions from each other -- with stops at home and errands before and after. There was even a little bit of highway driving, which is about the worst thing for an electric car.
This was going to be tough. But I accelerated gently and, as much as one can in New York City, planned ahead for braking. (Cab drivers are laughing now.)
"Why are you driving so slow?" my wife asked me as we ran a little late for a Saturday afternoon appointment.
She had no idea. She was just trying to get somewhere on time. I was sweating over my little pine tree. But, very gently, I pressed harder on the accelerator. Poor little tree.
By Saturday night, I had decision to make. I had about 22 miles left in my lithium-ion tank. Church was 5.5 miles away, an 11-mile round trip. I could make it, but what if we wanted to do something else? Could I still get to work on Monday?
My faith crumbled. We drove my wife's car to church. The Leaf's remaining miles were saved for neighborhood errands -- I bought milk and yogurt and picked up dinner to go. That was it.
"Driving range low" the car piped up about a quarter of the way to work the next morning. As the gleaming towers of my office building came into view it gave its final warning. "Very low battery," and it helpfully offered to find a charging station for me.
I wouldn't need it. I pulled into the parking garage on e-fumes. The Leaf hadn't yet entered "turtle mode," the final terminal phase of battery life, but the little fellow was ready to poke its head out of the shell.
Without even looking, I knew I'd gotten nowhere near 100 miles out of the Leaf. The factors that killed my mileage were near-constant use of climate control -- good for sucking up about 20% of your power -- and driving in New York City.
Yes, electric cars are supposed to be great in so-called "city driving," but this is New York City driving. It's a hyper-competitive combination of drag racing and demolition derby that will turn even the most high-tech battery into a shivering mass or rare earth metals. If you're a car, any kind of car, this town will kill you.
Final tally: A pathetic 50 miles, half of the advertised range. But the lesson here is not "The Nissan Leaf only goes 50 miles on a charge." The lesson is "Your mileage may vary ... a lot." Be careful out there, and have a plug handy.