Stocks edge higher after Obama speech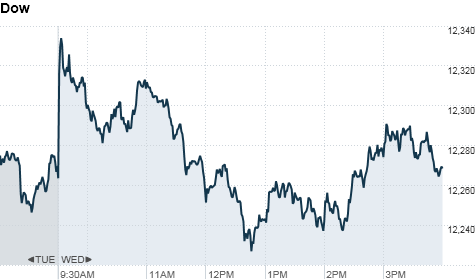 NEW YORK (CNNMoney) -- Stocks ended higher Wednesday, thanks to a late-afternoon turnaround following President Obama's speech unveiling his plan to cut the U.S. budget deficit by $4 trillion over 12 years.
The Dow Jones industrial average (INDU) rose 7 points, or 0.1%; the S&P 500 (SPX) added less than 1 point; and the Nasdaq (COMP) gained 17 points, or 0.6%.
Despite a strong open -- thanks to better-than-expected earnings and revenue from JPMorgan Chase (JPM, Fortune 500) -- stocks spent the early part of Wednesday's session in the red.
The losses came after JPMorgan CEO Jamie Dimon said that mortgage-related losses would continue for some time, and warned that investors should not expect additional dividend increases beyond the 25 cents set for this quarter. Shares of the bank slid almost 1%. JPMorgan is the first major bank to report first-quarter results.
But the market again reversed course in the afternoon after Obama laid down a series of spending and deficit targets, adding that he wants $3 in spending cuts for every $1 in additional tax revenue.
"Investors wanted to see some movement toward fiscal responsibility, but just not too much and not too soon, and that's exactly what the president gave them," said Doug Roberts, chief market strategist at Channel Capital Research.
Roberts added that the market has been supported by the government's stimulative policies, including the Federal Reserve's Treasury purchases and Congress' decision last December to extend the Bush-era tax cuts.
"Investors are relieved to hear that Obama's plan to reduce the deficit is gradual, not imminent," Roberts said. "The government's deficit has been taking painkillers for years now, and it's finally about to get some surgery. But nobody's amputating anything."
U.S. stocks finished lower Tuesday, with all three major indexes losing about 1%, as a 3% drop in oil prices sparked a sell-off in energy stocks, and Alcoa's sales disappointment weighed down the Dow.
Economy: Economists are continuing to scan the latest data for the domino effect of rising prices on other areas of the economy.
Before the market opened, the government reported retail sales rose 0.4% in March. The number was slightly below forecasts. Stripping out gas, retail sales were only up 0.1% for the month.
"Clearly, higher commodity prices are factoring into higher retail sales," said Aichi Amemiya, economist with Nomura Securities.
Retail sales for the prior two months were revised significantly higher, causing Nomura to raise its daily revised estimates for first-quarter growth to 2.3%, from 2.1% before.
A separate government report showed that business inventories rose 0.5% in February, slightly below forecasts.
Companies: Shares of Tyco International (TYC) fell 0.6%, after French company Schneider Electric denied reports that it is trying to buy the Swiss manufacturing conglomerate for $30 billion.
World markets: European stocks ended higher. Britain's FTSE 100 and France's CAC 40 rose 0.8%, while the DAX in Germany added 1.1%.
Asian markets ended higher. The Shanghai Composite rose just under 1%, the Hang Seng in Hong Kong added 0.7% and Japan's Nikkei rose 0.9%.
Currencies and commodities: The dollar fell against the euro and the British pound, but rose against the Japanese yen.
Oil for May delivery rose 86 cents to settle at $107.11 a barrel.
Gold futures for June delivery increased $2.00 to settle at $1,455.60 an ounce.
Bonds: The price on the benchmark 10-year U.S. Treasury rose, pushing the yield down to 3.47% from 3.50% late Tuesday.