Stocks dragged down by oil and Alcoa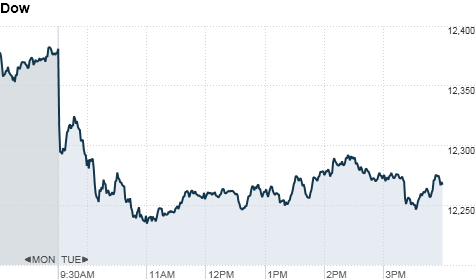 NEW YORK (CNNMoney) -- U.S. stocks finished lower Tuesday, with all three major indexes losing about 1%, as a 3% drop in oil prices sparked a sell-off in energy stocks and Alcoa's sales disappointment weighed down the Dow.
Investors also were on edge after Japanese officials raised the threat level at the Fukushima nuclear plant to the same as the 1986 incident at Chernobyl, in what was then the Soviet Union.
"Some people wanted to forget the nuclear threat in Japan, but it popped back up and worsened overnight," said Joe Saluzzi, co-head of equity trading at Themis Trading. "There are a lot of headwinds in the market, and on a day like today, investors are waking up and taking notice of all of them."
The Dow Jones industrial average (INDU) dropped 118 points, or 1%, dragged down by a 6% drop in Alcoa (AA, Fortune 500)'s stock. The aluminum giant reported disappointing sales late Monday as it kicked off the first-quarter earnings season.
"[Investors] want to see better revenues, margins and are interested in company guidance," said Saluzzi. Alcoa didn't deliver, worrying investors about how rising input and commodity prices will affect other corporate earnings.
Energy companies also added pressure on the market, as oil prices fell more than 3% to $106.25 a barrel. The slide in crude came after a Goldman Sachs forecast for a $20-a-barrel drop in crude prices this spring. Chevron (CVX, Fortune 500) and Exxon Mobil (XOM, Fortune 500) were big laggards on the Dow.
Pioneer Natural Resources (PXD), Nabors Industries (NBR), Denbury Resources (DNR), Range Resources (RRC) and National Oilwell Varco (NOV, Fortune 500) pressured the S&P 500 (SPX), which slipped 10 points, or 0.8%.
The tech-heavy Nasdaq Composite (COMP) lost 27 points, or 1%, as chipmakers such as Broadcom (BRCM, Fortune 500) and Micron Technology (MU, Fortune 500) lost ground amid global growth concerns.
On Monday, U.S. stocks gave up an early advance and closed little changed, as investors look toward corporate reports due throughout the week.
Companies: Cisco Systems announced that it was taking a restructuring charge of $300 million, as it prepared to reduce its staff by 550 workers. Cisco (CSCO, Fortune 500) shares fell 0.2%.
Budget battles: Early Tuesday, lawmakers finally revealed the specific spending cuts that make up the budget plan signed last week.
The 2011 budget cuts will slash $40 billion, cutting back on a wide range of programs and services including high-speed rail, emergency first responders and the National Endowment for the Arts.
The Treasury Department said the federal deficit increased to $188.2 billion in March. The monthly shortfall was just shy of the $189 billion forecast by economists.
Economy: The Commerce Department released data on the U.S. trade balance for February, showing that the deficit narrowed to $45.8 billion. Economists surveyed by Briefing.com expected the report to show the trade deficit narrowed slightly to $45.7 billion, down from a revised $47 billion in January.
On Sunday, China reported a small surplus for March, but revealed a more than $1 billion trade deficit for the first quarter. The U.S. data lags a month behind the Chinese report.
World markets: Asian markets sold off after the Japanese government bumped up the nuclear threat to a level on par with the Chernobyl disaster in 1986.
The Hang Seng in Hong Kong fell 1.3% and Japan's Nikkei tumbled 1.7%. The Shanghai Composite edged 0.1% lower.
European stocks fell Tuesday. Britain's FTSE 100, the DAX in Germany and France's CAC 40 all slid about 1.5%.
Currencies and commodities: The dollar rose against the British pound, but fell against the euro and the Japanese yen.
Gold futures for June delivery fell $14.50 to settle at $1,453.60 an ounce.
Bonds: The price on the benchmark 10-year U.S. Treasury rose, pushing the yield down to 3.50% from 3.57% late Monday.