Stocks decline for the week, but gain for the day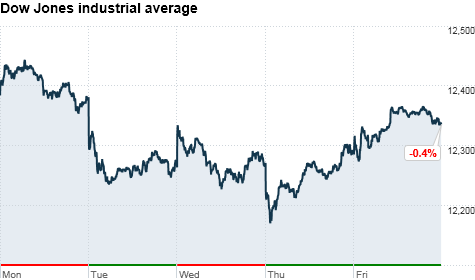 NEW YORK (CNNMoney) -- U.S. stocks finished the week lower as concerns about corporate results plagued the market. But Friday's session resulted in gains after positive news about inflation and consumer sentiment.
For the week, the Dow Jones industrial average (INDU) lost 0.4%, and both the S&P 500 and Nasdaq lost 0.7%. Big losses on Tuesday, triggered by disappointment about Alcoa's results and a spike in oil prices, couldn't be overcome the rest of the week.
The Dow rose 57 points Friday, or 0.5%, to 12,342; the S&P 500 (SPX) gained 5 points, or 0.4%, to 1,320.
The Nasdaq Composite (COMP) lagged the other two indexes, adding 4 points, or 0.2%. The tech-heavy index was weighed down by a 8% drop in Google (GOOG, Fortune 500) shares, which fell after the company reported a profit of $8.08 a share late Thursday, missing Wall Street analyst forecasts.
Investors focused Friday on economic reports.
The Labor Department's latest Consumer Price Index showed prices rose 0.5% in March. While the inflation data was in line with expectations, core CPI -- which strips out volatile food and energy prices -- came in lower than forecasts, rising 0.1% during the month.
Although gas and food have soared recently, core CPI has remained relatively tame.
"We're starting to see companies passing along their costs to consumers, and that's going to be an ongoing concern," said Bruce McCain, chief investment strategist at Key Private Bank.
Investors also welcomed a positive economic report from the University of Michigan, whose U.S. consumer sentiment index rose to a reading of 69.6 in April from 67.5 in March. Economists had been looking for a reading of 69. Stocks moved higher after the report.
"It's not going to be a straight line up, but things are just generally getting better," said Harry Clark, CEO of Clark Capital Management.
The biggest drag on the Dow was Bank of America (BAC, Fortune 500), whose shares slipped more than 2% after the bank's earnings fell short of analyst estimates. BofA said it earned a profit of 17 cents a share while analysts were looking for a profit of 27 cents a share.
Clark said investors are setting up for next week, when more than a fifth of S&P 500 companies will report their quarterly results.
"Earnings are going to be positive overall, and that's going to be bullish for the market until the summer," he said.
U.S. stocks ended little changed Thursday, erasing bigger losses from earlier in the session, as commodities and energy stocks climbed. The gains in oil offset weakness in the banking and technology sectors.
Economy: The Federal Reserve said U.S. industrial production rose 0.8% in March, marginally better than the 0.6% expected by economists.
Companies: Mattel (MAT, Fortune 500) shares rose 4%, making it among the best-performing stocks in the S&P 500, after the toy maker posted a first-quarter profit of 5 cents a share, a penny better than expectations.
World markets: Globally, investors mulled the latest economic data from China, which showed that the world's second-largest economy grew at a 9.7% pace year-over-year in the first quarter. That rate was faster than economists had expected.
Meanwhile, inflation rose at a feverish pace of 5% in the first quarter, led by surging food prices.
Asian markets ended mixed. The Shanghai Composite rose 0.3%, the Hang Seng in Hong Kong was flat and Japan's Nikkei fell 0.7%.
In Europe, Ireland was hit with another downgrade from Moody's Investors Service, which cut the country's credit rating to "Baa3," one notch above junk status.
European stocks closed higher. Britain's FTSE 100 gained 0.5%, the DAX in Germany added 0.4% and France's CAC 40 was up 0.1%.
Currencies and commodities: The dollar rose against the euro, but fell versus the Japanese yen and the British pound.
Oil for May delivery rose $1.30 to $109.41 a barrel.
Gold futures for June delivery rose $14.90 to $1,486.80 an ounce, heading for yet another record close for the precious metal.
Bonds: The price on the benchmark 10-year U.S. Treasury rose, pushing the yield down to 3.41% from 3.49% late Thursday.