Stocks close flat as oil rises again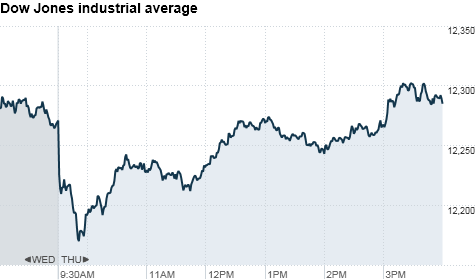 NEW YORK (CNNMoney) -- U.S. stocks ended Thursday's session mostly flat, erasing earlier losses as commodities and energy stocks climbed higher. The gains in oil offset weakness in the banking and technology sectors.
The Dow Jones industrial average (INDU) rose 14 points, or 0.1%, to 12,285. The Dow was down as much as 107 points earlier in the session.
The S&P 500 (SPX) was effectively flat, closing at 1,315; and the tech heavy Nasdaq Composite (COMP) fell a point, or 0.1%, to 2,760.
"It's a lot of wait and see at the moment," said Frank Davis, director of sales and trading with LEK Securities.
Financial shares were the biggest laggard Thursday after the Senate issued a report late Wednesday that slammed Goldman Sachs as a "case study" of the recklessness and greed that set off the 2008 financial crisis.
Bank stocks were also lower after an announcement from the Federal Reserve that it plans to slap fines on some of the largest U.S. banks, alleging "unsafe and unsound practices" in how they handled foreclosures.
Shares of Goldman Sachs (GS, Fortune 500) fell 3%, Bank of America (BAC, Fortune 500) lost 1%, and JPMorgan Chase (JPM, Fortune 500) shares were down 3%.
"A combination of the announcement by the Fed yesterday, plus the Senate's comments on Goldman Sachs in particular are weighing on the sector," said Richard Staite, U.S. banks analyst with Atlantic Equities.
Technology shares also dropped after industry tracking firms Gartner and IDC both said PC sales unexpectedly fell in the first quarter. Shares of Intel (INTC, Fortune 500), Microsoft (MSFT, Fortune 500), Hewlett-Packard (HPQ, Fortune 500) and Dell (DELL, Fortune 500) were all down between 1% and 3% each.
Offsetting the losses in tech and banking, energy stocks such as Chevron (CVX, Fortune 500) and Marathon Oil (MRO, Fortune 500) were higher as oil rebounded back over $108 a barrel.
Stocks rose slightly Wednesday, following President Obama's speech unveiling his plan to cut the U.S. budget deficit by $4 trillion over 12 years.
Economy: The Labor Department reported first-time jobless claims increased by 27,000, to a weekly total of 412,000. Wall Street was expecting initial claims to have totaled 385,000 claims last week.
"The jobless claims figure caught people by surprise," said Anthony Conroy, head trader at BNY ConvergEx Group.
The U.S. Bureau of Labor Statistics reported that the Producer Price Index rose 0.7% in March. Prices at the wholesale level were expected to have risen 1.1%.
Companies: Shares of Google (GOOG, Fortune 500) dropped 5% in after-market hours after the company reported a 17% rise in earnings, but Google's results missed analysts' expectations.
The Internet search giant said it earned an adjusted profit of $8.08 a share in its first quarter, while analysts expected earnings of $8.10 a share, according to Briefing.com.
Shares of Arcos Dorados (ARCO) jumped 25%, following the South American company's initial public offering. Arcos Dorados is the largest franchisee of McDonald's restaurants worldwide.
Car sharing company Zipcar (ZIP) soared more than 65% on its first day of trading after its IPO.
World markets: European stocks closed moderately lower. Britain's FTSE dropped 0.8%, the DAX in Germany fell 0.4% and France's CAC lost 0.9%.
Asian markets ended mixed. The Shanghai Composite edged lower by 0.3% and the Hang Seng in Hong Kong slipped 0.5%, while Japan's Nikkei ticked up 0.1%.
Currencies and commodities: The dollar rose against the euro, but fell against the Japanese yen and the British pound.
Oil for May delivery rose $1.32 to $108.42 a barrel.
Gold futures for June delivery rose $19.30 at $1,474.40 an ounce.
Bonds: The price on the benchmark 10-year U.S. Treasury edged lower, pushing the yield up to 3.48% from 3.47% late Wednesday.