Earnings deluge awaits investors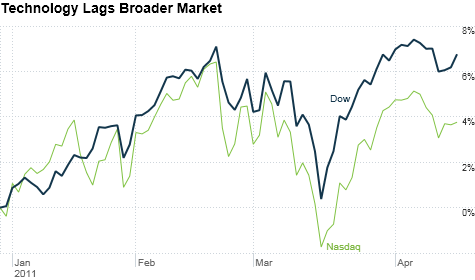 NEW YORK (CNNMoney) -- After a rocky start, earnings get into high gear this week.
Wall Street will get quarterly results from 110 members of the S&P 500, ranging from industrial titans like General Electric (GE, Fortune 500) to fast food maker McDonald's (MCD, Fortune 500).
"Next week's earnings will give us a broad mosaic of how Corporate America is doing," said Quincy Krosby, market strategist with Prudential Financial.
Investors, so far, have gotten mixed messages from this quarter's earnings season. While some companies like JPMorgan Chase were able to top Wall Street estimates with their results last week, any good news was outweighed by mediocre results from Alcoa, Bank of America and Google.
All three major indexes have retreated slightly as poor earnings and rising oil prices dragged down investor sentiment.
"I've been surprised that we've seen as many companies miss expectations, so it's been somewhat disappointing," said Kate Warne, chief investment strategist with Edward Jones.
It's going to be a particularly important week for technology investors, who will get earnings from Apple (AAPL, Fortune 500), Qualcomm (QCOM, Fortune 500), IBM (IBM, Fortune 500) and Intel (INTC, Fortune 500).
"Traders have been on a witch hunt in the technology sector since the Japanese earthquake," said Daniel Morgan, portfolio manager with Synovus Trust Company. "The whole sector has struggled with concerns about supply chain problems and concerns sales may take a hit."
Morgan said he expects Apple's earnings weigh heavily on the market, in part because of how exposed the company is to consumer spending with its iPhones, iPads and other household computers.
Financials are also a big sector reporting this week. Investors will get results from brokerages Goldman Sachs (GS, Fortune 500) and Morgan Stanley (MS, Fortune 500), from banking giant Citigroup (C, Fortune 500), and commercial bank Wells Fargo (WFC, Fortune 500).
While inflation has remained tame, Prudential's Krosby said investors should watch to see rising energy and material prices have impacted company earnings and if any CEOs make comments about passing costs to consumers.
Despite the dozens of companies reporting, volume this week is expected to be light. Markets will be closed on Friday in observance of Good Friday and the Jewish holiday of Passover will start on Monday.
On the Docket:
Monday -- Former Dow component and banking conglomerate Citigroup will report its results before the bell. Analysts polled by Thomson Reuters expect Citi to earn 9 cents a share versus the 15 cents a share it earned a year ago.
Other names reporting on Monday include newspaper chain Gannett (GCI, Fortune 500), pharmaceutical company Eli Lilly (LLY, Fortune 500) and chip maker Texas Instruments (TXN, Fortune 500).
Tuesday -- Before the open, Wall Street giant Goldman Sachs will report its results. Analysts expect to see Goldman's profits fall to 82 cents a share compared with the $5.59 it reported a year ago.
After the bell, technology giants Intel and IBM will report their results. Analysts are looking for Intel to earn 46 cents a share, while IBM is expected to post a profit of $2.30 a share.
Also reporting after the bell is Internet search portal company Yahoo! (YHOO, Fortune 500).
Along with earnings, the Commerce Department will release March housing starts and building permits data at 8:30 a.m. ET.
Wednesday -- Technology investors will be eagerly awaiting results from Apple, which reports after Wednesday's closing bell. Apple earnings are expected to jump to $5.35 a share, bolstered by sales of the Verizon iPhone and the iPad.
Other names to report on Wednesday include Dow components AT&T (T, Fortune 500), Travelers (TRV, Fortune 500) and United Technology (UTX, Fortune 500), metal and mining giant Freeport McMoRan (FCX, Fortune 500), chipmaker Qualcomm (QCOM, Fortune 500) and Wells Fargo.
On economic data, Wall Street will get existing home sales from the National Association of Realtors at 8:30 a.m. ET. Economists are looking for existing home sales to rise 5 million annualized units, according to Briefing.com
Thursday -- The biggest name to report will be industrial conglomerate General Electric (GE, Fortune 500), which has been under pressure this past quarter due to the Japanese earthquake and subsequent nuclear disaster. Analysts expect GE to report earnings of 28 cents a share.
Investors will also get earnings from asset managerBlackRock (BLK, Fortune 500), fast food giant McDonald's (MCD, Fortune 500), investment bank Morgan Stanley (MS, Fortune 500) and chemical company DuPont (DD, Fortune 500) among others.
For economic data, the Labor Department will release weekly jobless claims figures at 8:30 a.m. ET, with the Philadelphia Federal Reserve releasing its April activity index at 10 a.m. ET. Economists expect weekly claims to fall to 390,000 from last week's 412,000 claims while the Philly Fed survey is expected to drop to 32.9 from last month's 43.4.
Friday -- U.S. markets are closed. No major companies will report earnings and no economic data will be released.