Volt and Leaf ace crash tests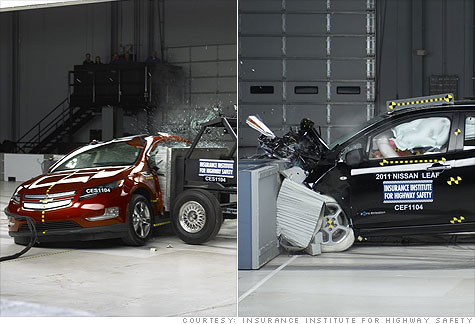 NEW YORK (CNNMoney) -- The Chevrolet Volt and Nissan Leaf plug-in cars both earned top scores in crash tests, the Insurance Institute for Highway Safety said Tuesday.
Both vehicles earned the Institute's coveted Top Safety Pick award, given to cars that get the best possible ratings in side and front crash tests as well as the best scores for whiplash protection in rear impacts.
"What powers the wheels is different, but the level of safety for the Volt and Leaf is as high as any of our other top crash test performances," said Joe Nolan, the Insurance Institute's chief administrative officer, in a statement.
The Insurance Institute for Highway Safety is an industry group financed by auto insurers. Its crash tests are different from those performed by the federal government's National Highway Traffic Safety Administration. Neither the Volt nor the Leaf has yet been rated by NHTSA.
The Leaf and the Volt each weigh almost 700 pounds more than comparable gasoline-powered cars by Nissan and General Motors.
The extra weight, mostly in the form of large battery packs, should help their performance in real-world crashes, the Institute said in its statement. In crashes between different vehicles, the lighter vehicle bears the brunt of the impact.
"The Leaf and the Volt's extra mass give them a safety advantage over other small cars," Nolan said. "These electric models are a win-win for fuel economy and safety.
Since the Institute's tests involve crashing vehicles into a fixed barrier instead of into another car, the weight advantage was not a factor in the test scores.
Electric cars run on high voltage electricity stored in batteries. That means there are some special safety considerations with electric cars including the fear of possible electrocution for occupants and those who may have to rescue them from crashes. The cars' high-voltage electric systems posed no problems in the crash tests, Institute spokesman Russ Rader said.
"Both vehicles' batteries are well shielded in the middle of the vehicle and away from any crash damage," Rader said, "and they have systems that shut off the high voltage electricity in the event of a crash."
The Nissan Leaf is a purely electric vehicle with a driving range of about 73 miles per charge, according to EPA ratings. The Volt has a range of about 35 miles, as measured by the EPA, but it also has a gasoline engine that generates electricity for driving longer distances.
The Nissan leaf recently won the World Car of the Year award. The Volt won North American Car of the Year and Motor Trend Car of the Year, as well as several other awards late last year and early this year. Both vehicles went on sale in November of last year.