Nation of renters and hoarders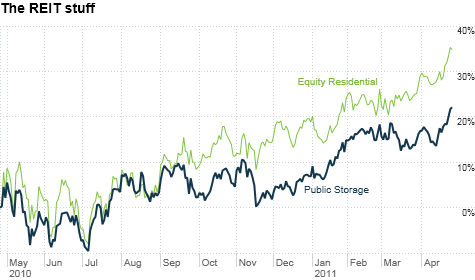 NEW YORK (CNNMoney) -- If you need any more proof of how sorry a state the housing market is in, look no further than how well real estate investment trusts that own apartments and storage facilities are doing.
Shares of leading apartment REITs Equity Residential (EQR), Apartment Investment & Management (AIV) and UDR (UDR) are near 52-week highs. Ditto for Public Storage (PSA), the leading owner of self-storage facilities, and smaller rivals Sovran Self Storage (SSS) and U-Store-It Trust (YSI).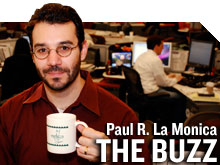 The fact that these somewhat stodgy companies are now Wall Street studs is a clear sign that more people are renting instead of buying. And that trend isn't likely to end anytime soon.
"Apartment owners have been on a tear for a couple of years, and should continue to do well," said David Harris, a REIT analyst with Gleacher & Co. in New York. "Some people refer to it as a propensity to rent but in reality, it's an aversion to buy."
Harris raises a good point. Even when economic times are good, many younger consumers who are just out of college or grad school are more likely to rent than buy. But following the epic housing collapse of the past few years, renting seems even more attractive.
For some, the decision to rent instead of buy is predicated on the belief that housing prices haven't yet hit bottom. For others, it's simply harder to save for a down payment and get a mortgage.
According to the most recent figures about housing ownership and vacancies released by the U.S. Census Department Wednesday, rental vacancies fell to 9.7% in the first quarter of this year from 10.6% a year ago.
Meanwhile, the home vacancy rate was unchanged. What's more, homeownership declined from a year ago. And the homeownership rate for those under the age of 35 is at a 16-year low.
That's good news for the apartment REITs. It may, strangely enough, also be a good sign for the overall economy.
Apartment and storage companies typically offer leases on a month-by-month (or at most year-by-year) basis. Bob Gadsden, manager of the Alpine Realty Income & Growth Fund (AIGYX) in Purchase, N.Y., said that for this reason, they can move more quickly to raise rates.
During the recession, these companies couldn't afford to raise rates. But with the job market steadily improving, that's no longer the case.
"A few years ago, apartment and storage companies were more worried about holding onto existing tenants," he said. "But because these companies offer shorter-term leases, they have more pricing power now."
That's helping companies like Public Storage too.
Steve Sakwa, a REIT analyst with ISI Group in New York, said that there is a strong historical correlation between revenue growth at Public Storage and revenue growth at the apartment REITs.
And that makes sense. If you're moving out of your parents' house or from a college dorm to a small urban (or even suburban) apartment, you likely need a place to store a lot of your stuff.
Demand for storage and apartments is increasing even as rental rates go up.
That's telling at a time when so many consumers are worried about the price of food and gas going up. After all, people who are struggling to pay their bills are not likely to be willing to also pony up for monthly storage fees.
The cost to rent is still much cheaper than buying in many big markets, such as California and New York, said Andrew DiZio, a REIT analyst with Janney Capital Markets in Philadelphia.
And that may remain the case for years to come -- even if rental rates continue to rise. DiZio noted that as long as there remains a glut of houses due to overbuilding and foreclosures, it makes more economic sense for people to rent instead of buy in many markets.
The opinions expressed in this commentary are solely those of Paul R. La Monica. Other than Time Warner, the parent of CNNMoney, and Abbott Laboratories, La Monica does not own positions in any individual stocks.