Stocks hit fresh highs as dollar weakens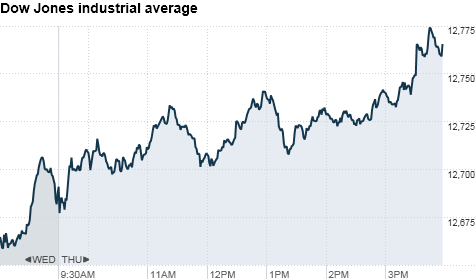 NEW YORK (CNNMoney) -- U.S. stocks rose to multi-year highs on Thursday, as investors dismissed a series of mixed earnings reports as well as disappointing economic news.
The Dow Jones industrial average (INDU) rose 72 points, or 0.6%; to close at 12,763.
Boeing (BA, Fortune 500) led the Dow higher, with its shares rising more than 3% a day after the company reported its quarterly results. Exxon Mobil (XOM, Fortune 500) was among the biggest drag on the blue-chip index, after it reported sales that fell short of forecasts. Exxon Mobil's stock slid less than 1%.
S&P 500 (SPX) rose 5 points, or 0.4%, to 1,360; and the Nasdaq Composite (COMP) rose a modest 3 points, or 0.1%, to 2,873.
Both the Dow and the S&P 500 ended at levels not seen since May 2008.
The tech-heavy Nasdaq was weighed down by shares of Akamai Technologies (AKAM), which dropped 14% after the company warned that sales would fall short of expectations. Still the Nasdaq closed at its highest level since December 2000.
Investors said Thursday's gains were in part a continuation of Wednesday's session, when stocks hit new highs following Fed chief Ben Bernanke's first post-policy meeting press conference.
"A lot of the action is a repeat of what we had yesterday following the Fed announcement, we got the dollar declining, stocks rising and gold heading higher," said Brian Gendreau, market strategist with Financial Network.
The U.S. dollar fell against the euro, British pound and Japanese yen, with the U.S. Dollar Index, a security that tracks the dollar's value against other major currencies, struck its lowest level in 21 months.
Economy: The dollar's decline was in part due to the weaker-than-expected economic data that was out on Thursday.
The Department of Commerce released its report on first-quarter gross domestic product, showing that first-quarter GDP expanded at an annual rate of 1.8%, falling short of the 2% growth economists surveyed by CNNMoney had forecast.
The government also reported its weekly initial jobless claims data. The Labor Department reported that jobless claims totaled 429,000 last week.
That was worse than expected and also marked the third week in a row that jobless claims came in above the key 400,000 level.
A report from the National Association of Realtors showed a 5.1% rise in pending home sales for March, much higher than the 1.7% rise economists had expected.
Companies:Citrix Systems (CTXS) shares jumped 9.7% on Thursday, making it the best performer on the S&P 500, after the software supplier posted a strong jump in profits and higher-than-expected revenue.
Norfolk Southern (NSC, Fortune 500)'s stock rose 8% after the company reported better-than-expected earnings and revenue.
After the closing bell, Microsoft (MSFT, Fortune 500) reported a quarterly profit of $5.2 billion, up 31% from a year earlier, on sales of $16.4 billion. Earnings and revenue topped forecasts.
Shares of Research in Motion (RIMM) plunged 12% in after-market trading after the BlackBerry maker cut its revenue forecast, citing lower than expected demand for smartphones.
Exelon (EXC, Fortune 500) an electric utility, announced a merger with Constellation Energy (CEG, Fortune 500), a supplier of natural gas and other energy products. The deal is worth $7.9 billion. Constellation's stock rose 3.5%.
World markets: European stocks closed higher. Britain's FTSE 100 rose less than 0.1%, the DAX in Germany added 1% and France's CAC 40 advanced 0.9%.
Asian markets ended mixed. Japan's Nikkei index rallied 1.6%, but the Shanghai Composite dropped 1.3% and the Hang Seng in Hong Kong edged down 0.4%.
Currencies and commodities: Oil for June delivery rose 11 cents to $112.68 a barrel.
Gold futures for June delivery rose $14.20 to settle at a record high of $1,531.20 an ounce. Earlier, gold hit a new intraday record of $1,535.50 an ounce and moved even higher in electronic trading.
Silver jumped more than 5% to $48.29 an ounce on Thursday.
Bonds: The price on the benchmark 10-year U.S. Treasury rose, pushing the yield down to 3.30% from 3.37% late Wednesday.