Stocks slip as economy trumps bin Laden news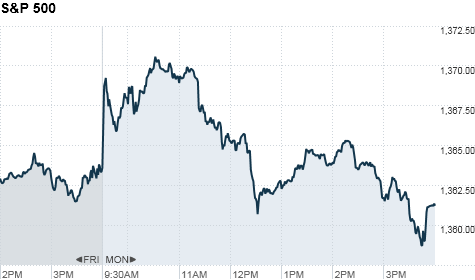 NEW YORK (CNNMoney) -- U.S. stocks edged lower on Monday as investors shifted their focus back to the economy and earnings news.
It was a reversal from the initial positive reaction to the news that Osama bin Laden had been killed by U.S. forces. Traders and investors said it will take more to sustain a longer rally.
The Dow Jones industrial average (INDU) fell 3 points, or less than 0.1%, to 12,807. The Dow had been up as much as 60 points earlier in the day.
The S&P 500 (SPX) fell 2.4 points, or 0.2%, to 1,361; and the Nasdaq Composite (COMP) lost 9 points, or 0.3%, to 2,864.
"Once the bin Laden news settles and earnings season slows down, we'll be due for a pullback," said Fred Dickson, chief market strategist with D.A. Davidson & Co. "Bin Laden's death doesn't eliminate the risk factors and it doesn't settle the political uprising issues in the Mideast."
Monday's losses ends what was a five-day long positive streak for the S&P 500 and Dow.
Alcoa (AA, Fortune 500), Merck (MRK, Fortune 500) and American Express (AXP, Fortune 500) led the blue chips higher Monday, but shares of Microsoft (MSFT, Fortune 500) offset the gains and weighed down the tech sector. Applied Materials (AMAT, Fortune 500) and Whole Foods (WFMI, Fortune 500) were the Nasdaq's biggest laggards.
The losses on Monday come after stocks finished their best month this year on Friday.
Stocks have headed higher since the beginning of the year amid strong earnings. Despite jitters about the economy and concerns about inflation, April was the best month for the three indexes since December.
Corporate earnings have largely come in above expectations, but last week's weak GDP reading and higher-than-forecast jobless claims show there's still cause for concern about the U.S. economic recovery.
U.S. investors will get the April jobs report, a closely watched gauge of U.S. economic activity, this upcoming Friday.
Commodities and currencies: Oil prices edged lower with June oil futures falling 0.4% to $113.52 a barrel.
"Oil can be a globally emotional, reactive market, and any time that geopolitical risk is reduced there is less fear in the oil markets," said Derek Hoffman, chief executive and founder of Wall St. Cheat Sheet. "The news that there was a successful effort to find, capture and kill the number one terrorist in the world is a positive sign."
Gold prices also backed off their highs Monday. Gold futures for June delivery fell $9.50 to $1,547.00 an ounce, after hitting an intraday high of $1,577.40 an ounce.
Meanwhile, silver prices plunged nearly 10% to $44.12 an ounce on concerns that the precious metal, which is up nearly 40% this year, is overbought.
In currencies, the dollar fell against the euro, but gained strength against the Japanese yen and the British pound.
Bonds: The price on the benchmark 10-year U.S. Treasury edged higher, pushing the yield down to 3.29%.
It's shaping up to be a big week for bonds, with the Treasury Department expected to announce details of its quarterly refunding on Wednesday.
World markets: Markets around the world had a muted reaction to Osama bin Laden's death, with Britain's FTSE 100, the Hang Seng in Hong Kong and the Shanghai Composite all closed for holiday.
Other European markets rose slightly. The DAX in Germany rose 0.3% and France's CAC 40 closed up 0.1%. Japan's Nikkei ended the session 1.6% higher.
Economy: The Institute for Supply Management said its April manufacturing index fell to a reading of 60.4%, better than the reading of 58.5% that economists had expected.
Companies: The Nasdaq-100 index will be rebalanced to reduce the weight of Apple's stock by about 40%. Apple (AAPL, Fortune 500) currently represents 20.5% of the index. After the rebalancing, Apple's weight will be reduced to 12.3%.
Shares of TiVo (TIVO) closed up 3% after DISH Network Corporation (DISH, Fortune 500) and EchoStar Corporation (SATS) announced they will pay TiVo $500 million to settle an ongoing patent dispute.
Separately, DISH reported earnings per share of $1.22 for the quarter ended in March, easily topping forecasts. Also, DISH said it gained approximately 58,000 net subscribers during the quarter. Shares of DISH jumped 19%.