Stocks struggle as oil prices decline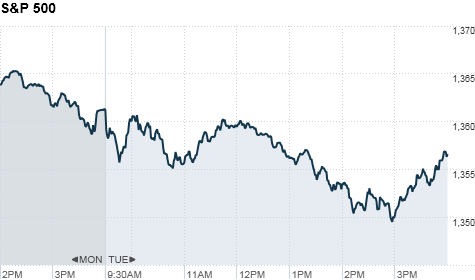 NEW YORK (CNNMoney) -- U.S. stocks struggled for a second session on Tuesday, as disappointing corporate earnings and a steep drop in the price of oil weighed on the broader market.
The Dow Jones industrial average (INDU) finished mostly unchanged, rising less than a point, to close at 12,808.
The biggest drag on blue chips was Pfizer (PFE, Fortune 500), which reported earnings per share that beat by just a penny. The drugmaker reaffirmed its outlook, but investors were hoping for more. Shares fell 3%.
Financial shares were among the top performers in the Dow, with Bank of America (BAC, Fortune 500) and JPMorgan Chase (JPM, Fortune 500) closing up more than 1.5%.
The S&P 500 (SPX) fell 5 points, or 0.3%, to 1,357; and the Nasdaq Composite (COMP) shed 22 points, or 0.8%, to 2,742.
The energy sector was the biggest weight on the broader market as oil prices retreated sharply, settling down 2.2% to $111.05 a barrel. Chevron (CVX, Fortune 500) shares fell 2%, ConocoPhilips (COP, Fortune 500) shares dropped more than 4% and Exxon Mobil (XOM, Fortune 500) was down less than 2%.
Meanwhile, the tech-heavy Nasdaq was weighed down by shares of Sears Holdings (SHLD, Fortune 500). The company's stock fell 10%, after it said its same-store sales fell nearly 4% in the latest quarter. Sears is holding its shareholder meeting Tuesday.
Semiconductor makers Nvidia (NVDA) and Micron Technologies (MU, Fortune 500) contributed to the Nasaq's decline, with shares of both down more than 4%.
On Monday, U.S. stocks finished slightly lower, as investors moved past their initial positive reaction to news that Osama bin Laden had been killed.
Traders and investors said it will take more to sustain a longer rally.
"Fundamentally, not much as has changed," said Zahid Siddique, Associate Portfolio Manager of Gabelli Equity Trust. "We still have all the macro issues, whether it is the Middle East, Europe, Japan."
Monday's losses ended a five-day winning streak for the S&P 500 and Dow.
April was the strongest month for stocks since December. In fact, stocks have been steadily marching higher since the start of the year. But risks remain: the economy is far from out of the woods. And, while earnings have been strong, investors remain nervous about whether companies can sustain their growth.
The government's main jobs report for April is due out Friday, and investors will be paying close attention. Jobs remain one of the biggest -- if not the biggest -- drivers of the economic recovery.
According to a CNNMoney survey, economists expect 193,000 jobs to have been added in April.
Investors need to see a positive trend in the labor market, and they haven't seen that yet.
"Earnings season was the catalyst to drive this market higher for the last couple weeks, but now we need the economic data to catch up," said Marc Pado, chief market strategist with Cantor Fitzgerald.
Federal Reserve chairman Ben Bernanke has maintained his position that interest rates will remain low for the foreseeable future -- despite growing concerns of inflation.
Meanwhile, emerging markets are showing concern about inflation: India announced that it raised its key lending rate to 7.25% from 6.75%.
Currencies and commodities: The dollar was flat against the euro and up against the British pound, but slipped against the Japanese yen.
Gold futures for June delivery sank $24.50, to $1532.40 an ounce.
Silver futures for May delivery slid more than 10%, to $41.15 an ounce. Silver has come under pressure after the CME raised its margins on orders for the precious metal, meaning traders have to leave more on the table per contract, so many are readjusting their portfolios.
Andrew Lebow, broker with MF Global said the raise in margin requirements for silver may have increased concerns that margin requirements for other commodities may need to increase as well.
Economy: The Commerce Department reported factory orders rose 3% in March, which was better than the 2.5% rise economists had forecast.
Companies: General Motors (GM) shares rose 2.5%, after the company reported a 26% rise in April monthly car sales. Competitor Ford (F, Fortune 500) reported a 16.4% rise in April sales, its shares rising 0.5% on the news.
Credit card processor MasterCard (MA, Fortune 500) reported earnings per share of $4.29, up 24% from the same time a year ago. The company cited an 11.1% increase in transactions as the reason for the first-quarter bump. Shares rose 3%.

Bonds: The price on the benchmark 10-year U.S. Treasury edged higher, pushing the yield down to 3.27% from 3.29% late Monday.
World markets: European stocks closed mixed. Britain's FTSE 100 rose 0.2%, the DAX in Germany fell 0.4% and France's CAC 40 fell 0.3%.
Asian markets also ended the session mixed. The Shanghai Composite rose 0.7%, while the Hang Seng in Hong Kong dipped 0.4%. Japan's Nikkei was closed for holiday.