No excuses. Big businesses MUST hire
NEW YORK (CNNMoney) -- Dear Corporate America,
Friday's jobs report better be very good or you will have a lot of Ricky Ricardo-esque explaining to do. Economists surveyed by CNNMoney expect a job gain of 200,000 from the private sector in April.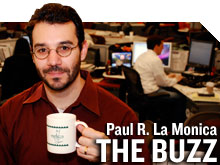 Call me greedy. But it would be really nice if that number was north of 250,000.
Yes, commodity costs may still be a wild card. But it's time to stop hiding behind the veil of "uncertainty."
It's time to start using the massive amounts of cash you have to hire more people.
First quarter earnings were mostly solid and many companies issued upbeat guidance for the remainder of the year, citing healthy demand. Qualcomm (QCOM, Fortune 500), Johnson & Johnson (JNJ, Fortune 500) and Bed Bath & Beyond (BBBY, Fortune 500) are just a few of many big companies that have issued a more bullish outlook for 2011.
If businesses really believe that the rest of 2011 should be strong, it's time to put money where your proverbial mouth is. Stop stretching existing workers to the breaking point. Increased productivity can only go so far.
If you want the recovery to be "self-sustaining" instead of "transitory", then add to headcount. Fewer people out of work could go a long way toward boosting consumer confidence -- and more importantly, consumer spending.
It could even help the housing market. It's no secret that the foreclosure crisis is related to the fact that so many people are unemployed or underemployed.
Cash is being put to work to reward shareholders. Many firms, including CBS (CBS, Fortune 500), IBM (IBM, Fortune 500) and Pepsi (PEP, Fortune 500), have recently boosted their dividends. Others, such as Northrop Grumman (NOC, Fortune 500), Merck (MRK, Fortune 500) and DuPont (DD, Fortune 500), are increasing share buybacks.
Then there's the explosion in merger activity. Companies are pairing up like drunken teens in the back seat of a limo after their high school prom. And many are using cash, not inflated stock, to do it.
Just this week, there have been four notable multi-billion dollar deals.
Arch Coal (ACI) is buying International Coal (ICO) for $3.4 billion in cold hard cash. Israeli drug maker Teva (TEVA) is buying biotech Cephalon (CEPH) for $6.8 billion. All cash. Applied Materials (AMAT, Fortune 500) is paying $4.9 billion in cash for rival Varian Semiconductor (VSEA).
And food giant Conagra (CAG, Fortune 500) upped its bid for cereal maker Ralcorp (RAH), switching from a cash and stock deal to an all-cash offer of $4.9 billion.
Do we even want to get into the issue of executive compensation? Ford (F, Fortune 500), JPMorgan Chase (JPM, Fortune 500) and Target (TGT, Fortune 500) have all rewarded their CEOs handsomely for a job well done.
So let's recap. Companies seem to be more optimistic about the economic outlook. They have the money to spend on acquisitions. They have the money to spend on bigger payouts to shareholders. The C-suite guys and gals are getting fat bonuses.
Fortunately, some companies are taking steps in the right direction. McDonald's (MCD, Fortune 500) is going on a major hiring spree. Google (GOOG, Fortune 500) keeps adding workers even though investors shortsightedly punish the company for doing so.
How can other big businesses still claim with a straight face that it's too early to bring more people back to work? There is no legitimate reason why the nation's largest companies shouldn't be aggressively hiring more again.
Come on! Job growth shouldn't be an afterthought.
Sincerely,
Paul R. La Monica
The opinions expressed in this commentary are solely those of Paul R. La Monica. Other than Time Warner, the parent of CNNMoney, and Abbott Laboratories, La Monica does not own positions in any individual stocks.