Death of bin Laden means nothing for stocks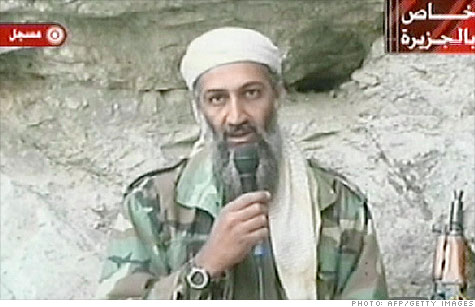 NEW YORK (CNNMoney) -- If you were expecting a big rally Monday on the bin Laden news, guess again.
Stocks initially rose, but it was hardly a euphoric move. By early afternoon, the market was flat. That makes sense.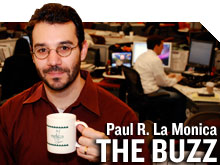 Let's be honest. It's not as if the market had been held back as of late because Osama bin Laden was still on the loose.
The death of bin Laden doesn't really change anything for the financial markets or economy. Talk all you want about how this may boost confidence. But that's a touchy-feely intangible that gets too much attention.
"There's no long-term impact from bin Laden's death. There may not even be that much of a short-term impact," said Jack Ablin, chief investment officer with Harris Private Bank in Chicago.
"Yes, there's closure and catharsis for the country. But this doesn't move the needle for the markets or economy in a meaningful way," Ablin added.
If you were a bull before you went to sleep last night, you'd still be in a good mood this morning even if bin Laden was still alive.
There is much for investors to fret about -- more about that in a bit. But if you are one of those uber-optimistic types, there was good news Monday beyond bin Laden's death.
For one, it was another merger Monday today. Arch Coal (ACI) is buying International Coal (ICO). Hospital owner Community Health Systems (CYH, Fortune 500) upped its bid in a hostile takeover attempt for rival Tenet Healthcare (THC, Fortune 500). And generic drugmaker Teva Pharmaceuticals (TEVA) agreed to buy biotech Cephalon (CEPH), topping an unsolicited offer from Valeant Pharmaceuticals (VRX).
The pickup in merger activity, combined with the afterglow of fairly strong earnings reports from Corporate America last month, are arguably more important factors behind the market's move Monday.
"The larger story for the markets is not bin Laden. It's that revenue and earnings are coming in better than expected," said Phil Dow, director of equity strategy with RBC Wealth Management in Minneapolis.
Investors and traders focus on data points. Things that can be measured with cold, hard numbers.
You could even say the same thing about consumers. The Great Recession and its aftermath have pushed terrorism to the back of many Americans' minds as a big concern.
And barring another significant attack on domestic shores like 9/11, it seems likely that fear about what $4 gas means will outweigh any elation about the (hopeful) crippling of al Qaeda.
Even if the world is now a safer place -- which is a debatable point -- there are still many risks facing the economy in the U.S. and across the globe. Heck, even the VIX (VIX), Wall Street's so-called fear gauge, was up slightly Monday.
The Middle East and North Africa have remained volatile and that's keeping pressure on oil prices. The death of bin Laden probably does nothing to change what's going in Egypt, Tunisia, Libya, etc. In fact, oil shot up to above $114 a barrel Monday.
The dollar fell against the euro Monday despite the fact that today is a great day for America. The dollar may decline further since it appears that the Federal Reserve is likely to keep interest rates low for the foreseeable future, at a time when other central banks are raising rates.
A weaker dollar may help profits for big U.S. firms in the short-run but it's bad news if the dollar continues to drop since it could help contribute to even bigger spikes in commodity prices.
"Even though the corporate news has been good, the thing that concerns me the most is the devaluation of the dollar," Dow said. Commodity prices are high and they could be going higher."
What's more, Investors are still worried about the nation's onerous debt load and deficit.
While it's nice to dream about how killing bin Laden will lead Democrats and Republicans to link arms and go fix the budget problems, that's not going to happen.
"I doubt that the feel-good aspect of the bin Laden news will extend to the debt ceiling debate," said Bruce McCain, chief investment strategist with Key Private Bank in Cleveland . "We can keep our fingers crossed but this might not help ease any of the factional, partisan differences in Washington."
Finally, there's an important jobs report due out at the end of the week. The recent upswing in initial claims has some worried that the labor market is now taking another turn for the worse after several big drops in the unemployment rate.
If jobs growth is anemic, the unemployment rate starts creeping higher again and wages remain flat, the fact that bin Laden is dead will be quickly forgotten by investors and consumers.
The opinions expressed in this commentary are solely those of Paul R. La Monica. Other than Time Warner, the parent of CNNMoney, and Abbott Laboratories, La Monica does not own positions in any individual stocks.