New York's taxi of tomorrow has a lot to prove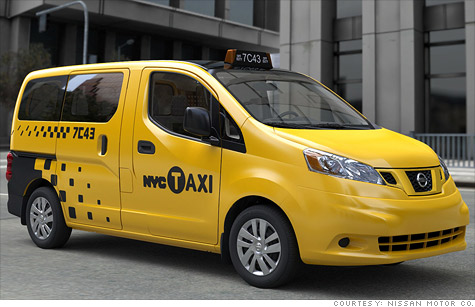 FORTUNE -- News item: New York City selects Nissan to design and build the "Taxi of Tomorrow." The Japanese automaker will supply a purpose-built version of the iconic yellow cab reimagined as a minivan starting in late 2013.
Good luck, Nissan. You are about to become the target of intense media scrutiny, unsolicited "advice" from every politician who can get to a microphone, and complaints from most of the drivers and taxi fleet owners in the city.
And good luck, Gotham. Your record of success in directing the future of the taxi cab -- and any other futuristic method of individual or mass transit is rather spotty. Remember the Peugeot diesel that was practically shredded by your ill-maintained streets? Or the way the courts twice blocked your efforts to penalize fleet owners for using non-hybrid cabs? And I won't even get into your difficulties with such forward-thinking mass transit projects like the Grumman Flexible bus and Bombardier subway car.
The latest debate centers on bike lanes, which have been popping up on major thoroughfares, including Broadway. Supporters argue they are the wave of a gas-short, air-polluted future. Opponents claim the little-used lanes were imposed without due process, steal space from car and bus traffic, and are a safety hazard.
Look, I'm no fan of New York City taxis. Except under extreme duress, I let minivan and SUV taxis pass me by because I can't stand the ballistic-grade clear-plastic seat covers or scratched and dirty plexiglass driver partitions. Even those more comfortable Ford Crown Victoria sedans leave me trapped in the back seat because my size 11 shoes are wedged under the front seat.
No, I'm not nostalgic for those buckboard-riding old Checkers with the hose-out interiors either. And I understand that those wonderful London taxis (with their equally-wonderful knowledgeable and polite drivers) are too expensive and hard to maintain in our city.
But to be frank, your record in directing transportation projects that are supposed to improve on the status quo is spotty at best.
Take those Grumman busses. According to contemporary reports, Grumman, the company that built the lunar landing module, produced a bus in 1978 that was supposed to kneel for the handicapped and flashed "Have a good day" to passengers. The buses quickly developed problems with air conditioning, and within months the city had to take all of them out of service for repairs because of cracks in the supporting frames.
Then there were those Bombardier subway cars from the late 1990s. After they had been in service for a while, the Transit Authority discovered they were requiring maintenance almost twice as often as promised. Software and hardware glitches, prevented some cars from getting power from the third rail, while some car doors wouldn't open or close, forcing conductors to walk through the trains and operate them manually.
This doesn't bode well for the Taxi of Tomorrow. Planning began in 2007 with the creation of a set of goals. As a result, the Nissan has a long list of features, such as a 12-volt electrical outlet and two USB plugs, antimicrobial seat fabric, and a transparent roof panel.
Nice, but unnecessary. Wouldn't it have made more sense to create a list of basic requirements and let manufacturers figure out the best way to meet them? All the "attractive, breathable, and easy-to-clean seat fabric" in the world isn't going to make it any easier to catch a cab during shift change at 4 p.m.
And I'm just guessing, but I bet the new unibody, front-wheel drive van will have as hard a time holding up to the constant pounding that taxis take as the current fleet of unibody front-wheel drive vehicles do.
Call me old-fashioned, but there is nothing as durable as antique body-on-frame, rear-drive construction for city use.
One of the largest taxi fleets in the city is run by Midtown Operating Corp. When it was announced that Ford (F, Fortune 500) was taking the venerable Crown Vic out of production, the New York Times interviewed owner Ron Sherman and here's what he said:
"There's not another approved vehicle at the Taxi and Limousine Commission that works for my operation. We need a commercial-grade, fleet-grade, purpose-built vehicle. It took 20 years and $50 million to perfect the Crown Vic. You can't just paint any passenger car yellow and put it on the road. It has to be taxi tough."
Until the Nissan Taxi of Tomorrow proves differently, that will be my last word on the subject.