Oil settles down 2.6%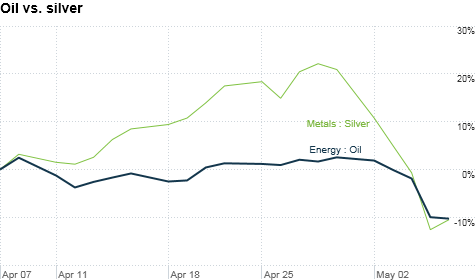 NEW YORK (CNNMoney) -- Oil continued its slide Friday, dropping 2.6%, as a rally in the dollar triggered a sell-off that erased gains made earlier on a stronger-than-expected jobs report.
As stocks rallied, oil prices flip-flopped. Crude fell 3% ahead of the jobs report, then got a little boost before retreating again.
By the end of trading, crude for June delivery settled down to $97.18 a barrel. On Thursday, crude sank nearly 9% -- the biggest one-day percentage drop in two years.
"Oil prices are going crazy," said Phil Flynn, senior market analyst at PFG Best. "We had this huge correction because people were concerned about the economy slowing down and demand weakening, and now we're rebounding from yesterday's selloff because we got a good jobs report and people are saying maybe demand will be okay."
The U.S. economy added 244,000 jobs in April, the government said Friday. Economists surveyed by CNNMoney had predicted an increase of 185,000 jobs in April, following a 216,000 rise in March.
Flynn said oil had to take a break from the recent run-up at some point, and now that "we broke the back of the parabolic bull move," it will just take some time for prices to stabilize.
"We're going to see some volatility, but I do think we've hit the top -- I don't think we're going to see $115 a barrel for some time," he said, adding that once the near-term choppiness smoothes out, prices will likely hover between $80 and $104 a barrel.
Crude prices neared $114 a barrel last month as fears about supplies took hold following escalating violence in Libya. But as investors got 'accustomed' to those concerns, oil prices became mired in a fairly tight range...until this week.
In the past week, oil prices have tumbled more than 10% on worries that recent disappointing economic reports may mean we are in for an economic slowdown.
Along with oil, stocks also took a big hit Thursday as investors became increasingly nervous ahead of the government's monthly jobs report.
The dollar gained nearly 2% on Thursday after the European Central Bank left interest rates unchanged -- putting additional pressure on oil prices. Because crude oil is priced in dollars, a stronger U.S. currency tends to pressure commodities.
That was the case Friday as well, with the dollar rallying 1% against the euro, which added to the selling pressure on commodities.
In other commodities, silver prices also pared some of their early losses, falling 2.6% Friday -- after sinking 7% before the jobs report. Silver has taken a big hit after the CME raised its margin requirements, meaning traders have to leave more on the table to buy silver futures.
Gold for June delivery ticked up $10.20, or 1%, to $1491.60, after dropping more than 2% on Thursday.
Gas prices declined on Friday, following a 44-day string of gains -- during which the price of gasoline surged 12%. The national average price for a gallon of gasoline fell one tenth of a cent to $3.984 on Friday, according to motorist group AAA.