Stocks tumble on job report worries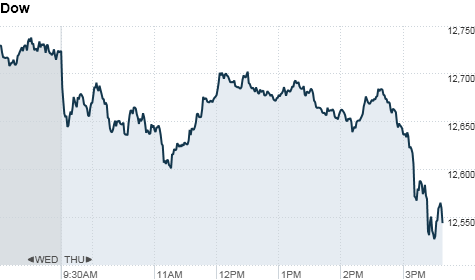 NEW YORK (CNNMoney) -- A sell-off on Wall Street accelerated late Thursday as oil prices plunged and investors braced for the government's monthly jobs report.
The Dow Jones industrial average (INDU) fell 140 points, or 1.1%, to 12,584. The S&P 500 (SPX) lost 12 points, or 0.9%, to 1,335. The Nasdaq (COMP) sank 13 points, or 0.5%, to 2,814.
The broad-based retreat was sparked by weakness in shares of energy companies as oil prices plunged 8%, falling below $100 a barrel. It was the largest one-day decline since April 2009.
"The selling has been concentrated in the energy sector, and that pulled the entire market down," said Nick Kalivas, vice president of financial research at MF Global.
But the retreat accelerated into a full-blown sell-off late in the day as investors turned cautious ahead of Friday's report from the Labor Department on hiring and unemployment.
"People are not willing to take a stab on the long side ahead of the payrolls report," said Kalivas.
Friday's report is expected to show employers added 185,000 jobs in April, according to economists surveyed by CNNMoney. The unemployment rate is forecast to remain unchanged at 8.8%.
The government reported Thursday that the number of Americans filing first-time claims for unemployment benefits rose sharply last week. Labor Department officials said the increase was due to seasonal anomalies, but jobless claims have been on the rise recently.
Stocks ended in the red Wednesday, as disappointing reports on jobs and the service sector weighed on investors.
Currencies and commodities: The dollar rallied 2% against the euro after dovish comments from the president of the European Central Bank.
The dollar gained 1.5% versus the Australian dollar and rose 0.7% on the pound. But it eased against the yen.
The stronger dollar weighed on prices for commodities that are priced in the U.S. currency.
Oil prices sank $9.44, or 8.6%, to $99.80 a barrel.
Gold futures for June delivery fell $26.30, or 1.7%, to settle at $1,489 an ounce.
Silver futures for July delivery extended their retreat, sliding $2.58, or 6.7%, to $36.80 an ounce. Just a week ago, silver prices were within spitting distance of breaching $50 an ounce.
Investors had been plowing money into commodities this year, based on expectations that the dollar would remain weak as interest rates rise in Europe but remain low in the United States.
"That whole trade is looking pretty bad now," said Dan Greenhaus, market strategist at Miller Taback & Co. "Things are getting worse as the commodity selloff accelerates."
Companies: After the closing bell, Dow component Kraft Foods (KFT, Fortune 500) reported first-quarter earnings of 45 cents per share and said it expects full-year earnings to be $2.20 per share.
Analysts were expecting earnings of 47 cents for the first quarter, and $2.22 per share for 2011. Despite the weaker-than-expected results, shares of Kraft were up about 1% in extended trading.
Visa (V, Fortune 500) reported quarterly earnings of $1.23 per class A common share, versus an expected $1.20 per share profit. Shares fell 1.5% after the bell.
Retailers reported a surge in April sales, boosted by Easter purchases. Shares of Macy's (M, Fortune 500) rose more than 3% and Target's (TGT, Fortune 500) stock edged up 2%.
Automaker General Motors (GM, Fortune 500) reported a first-quarter net profit of $3.2 billion, its fifth consecutive profitable quarter. Shares fell 3%.
JDS Uniphase (JDSU) reported mixed quarterly results but issued a sales outlook for the current quarter that topped analysts' forecasts. Shares of the networking equipment maker rose 5%.
Shares of Whole Foods (WFMI, Fortune 500) rose slightly one day after the company reported solid results after Wednesday's closing bell and raised its outlook.
Bonds: The price on the benchmark 10-year U.S. Treasury eased, pushing the yield up to 3.26% from 3.22% late Wednesday.
World markets: European markets closed lower. Britain's FTSE 100 slipped 1% and France's CAC 40 sank 0.9%, while the DAX in Germany ended flat.
The European Central Bank and the Bank of England both left their key interest rates unchanged, as was widely expected.
Asian markets ended mixed. The Shanghai Composite ticked up 0.2%, and the Hang Seng in Hong Kong dipped 0.2%. Japan's market concluded three days of holidays.