Stocks end the week lower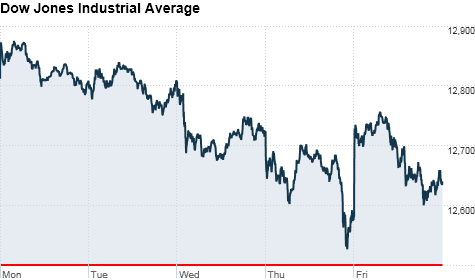 NEW YORK (CNNMoney) -- Stocks posted moderate advances Friday, as a steep sell-off in the euro dampened U.S. investor enthusiasm about a stronger-than-expected jobs report.
The Dow Jones industrial average (INDU) advanced 55 points, or 0.4%, to 12,639. The S&P 500 (SPX) rose 5 points, or 0.4%, to 1,340 and the Nasdaq Composite (COMP) rose 13 points, or 0.5%, to close at 2,828.
Despite Friday's modest gains, all three indexes closed down more than 1% this week in the wake of falling commodity prices and mediocre economic data.
On Friday, stocks eased off the session's highs after the German magazine Der Spiegel reported that Greece was considering abandoning the euro.
The news sent the euro down more than 1.1% against the dollar. The dollar also gained strength against the Japanese yen but fell versus the British pound.
While it's unlikely that Greece will actually abandon the euro, it's something investors will monitor closely.
"It would be very difficult for Greece to leave the euro, especially since the Greek bailout package was created for the purpose of keeping them in the eurozone," said Peter Maris of Resource Financial Group.
The Dow had been up as much 175 points as U.S. investors cheered a much better than expected jobs report.
The U.S. economy added 244,000 jobs in April, although the unemployment rate ticked higher to 9% from 8.8%. Economists surveyed by CNNMoney were forecasting employers added 185,000 jobs in the month, with the unemployment rate remaining at 8.8%.
"Everyone was looking for this economy to find some footing, and they found it in today's jobs numbers," said Anthony Conroy, head trader at BNY ConvergEx.
Traders were especially heartened by the jobs numbers because expectations had been low -- particularly following Thursday's dismal initial jobless claims data, and Wednesday's mediocre ADP private-payrolls reports.
Friday marked the one-year anniversary of Wall Street's 'flash crash', which sent the Dow industrials plunging nearly 1,000 points in less than 20 minutes.
Commodities: Investors continued to focus on oil, gold, and silver prices, following big declines posted earlier this week. The sell-off in the euro pushed oil and silver prices down even further.
Oil for June delivery settled down $2.62, or 2.6%, to $97.18 a barrel. Crude oil prices plunged 8.6% Thursday to close below $100 a barrel for the first time since mid-March.
Some metals showed signs of life Friday, with gold advancing $10.40 to $1,491.70 an ounce and copper up 3%.
However, silver was down 3% to $35.21 an ounce.
After 44 straight days of increases, the national average price for a gallon of regular unleaded gasoline decreased 0.1 cent Friday, according to AAA. The average price is now $3.984 a gallon.
Companies: Insurer AIG (AIG, Fortune 500) late Thursday reported a loss from continuing operations of $1.41 per share for the first three months of the year, compared to a profit of $2.16 per share over the same period a year ago. Despite the weak earnings report, shares of AIG fell 0.3%.
Shares of Citigroup (C, Fortune 500) rose 1% ahead of the finalization of company's reverse-stock split. Citi shareholders will get one new share for every 10 shares they currently own.
World markets: European stocks closed solidly higher, following the U.S. government's monthly jobs report. Britain's FTSE 100 ticked up 1%, the DAX in Germany added 1.6% and France's CAC 40 rose 1.3%.
Asian markets ended lower. The Shanghai Composite shaved 0.3%, the Hang Seng in Hong Kong lost 0.4% and Japan's Nikkei tumbled 1.5%.
Bonds: The price on the benchmark 10-year U.S. Treasury rose Friday, pushing the yield down to 3.14%.