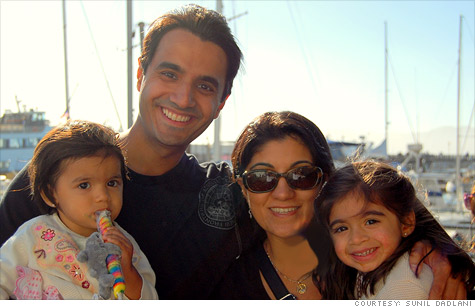 Sunil Dadlani, 35, lives in Princeton, N.J. with his wife Jasmine and daughters Shreya and Jhanak. About 40% of his portfolio is in ETFs.
NEW YORK (CNNMoney) -- They are the biggest users of smartphones, Twitter and Facebook...and ETFs? Yup, those too.
It turns out young people are big fans of exchange traded funds. And with good reason.
"I saw ETFs as a replacement to my mutual funds," said Sunil Dadlani, a 35-year-old technology consultant from Princeton, N.J.
Dadlani has had 40% of his portfolio dedicated to ETFs since the market bottomed in 2009. And he's managed to make a 50% return on his investment during those two years.
Since the first ETF launched just 18 years ago, the market has grown by leaps and bounds. Today there are more than 1,100 to choose from, with hundreds more in the pipeline.
Not only do ETFs trade like stocks, but they are also often cheaper and more tax friendly than traditional mutual funds.
Those advantages have pushed assets under management for ETFs beyond $1 trillion, thanks to an average annual growth rate of 40% during the last decade, according to the Financial Stability Board. That's eight times as fast as it is for assets in mutual funds or direct equity markets.
Older investors, on the other hand, have a long comfortable relationship with their mutual funds and are less likely to make the switch, say experts. But it's not that they're stuck in their ways. The amount in capital gains taxes due after selling those mutual funds may not make it worth their while, noted Paul Justice, director of North American ETF research at Morningstar.
"For older investors, it's not easy to switch their portfolio pickings, but investors that are starting out don't have to cross that barrier," added Mike McGrath, director of ETFs at TD Ameritrade.
When Dadlani started investing in the early 1990s, he walked into a bank, met with an investment advisor, and walked out with his money in a few mutual funds. But as the buzz over ETFs grew, he made the leap in 2009.
"I learned pretty quickly that ETFs have a lot of the same benefits and variety as mutual funds, but they are available for lower fees and trade in real time like stocks, which is more exciting and gives me more control," said Dadlani.
Dadlani bought shares of ETFs that track the performance of broad indexes like the S&P 500, the Dow Jones industrial average, and the Russell 2000. He also bought sector-specific ETFs, including one that focuses on the financial services companies.
Dadlani also bought leveraged ETFs that seek to double returns, though experts warn that those ETFs are designed for active day-traders and may be too risky for buy-and-hold investors.
"I haven't gone too crazy with extremely niche, trendy products, but I see more and more coming on board," Dadlani said. "It's scary because there's so much I don't know."
There are new and niche ETFs rolling out almost daily, which is also what makes ETFs attractive to many young investors who are quick to glom onto the next hot thing, said Rick Ferri, investment advisor at Portfolio Solutions and author of The ETF Book.
"Commodities like gold and silver are popular right now, and only really available in ETF form," Ferri said. "Young people without a lot of investment experience are more likely to chase after hot, trendy investments, so it's really the underlying securities that attract them toward ETFs."