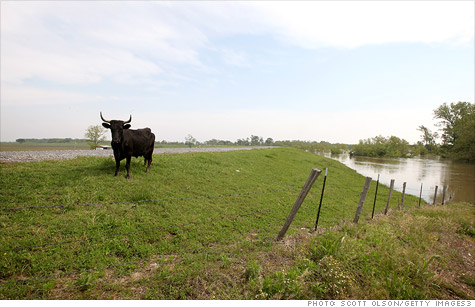 A cow stands on a levee holding back floodwater from the Mississippi River in Tomato, Ark.
NEW YORK (CNNMoney) -- If the first reports from Arkansas are any indication, the flooding along the Mississippi River will severely damage farming in states from the Ohio Valley to the Gulf of Mexico.
The Arkansas Farm Bureau says more than 1 million acres of cropland are under water. That is expected to cause at least $500 million in damage, including the loss of crops that were already planted and future losses.
The flood's timing could drive that damage estimate higher, according to Travis Justice, senior economist of the Arkansas Farm Bureau. He said this is the optimum planting season for rice, cotton and corn. Farmers can plant these crops when the floodwaters recede, but the yield will not be as great.
Justice said the situation cannot be fully assessed until the water recedes, which could be weeks away.
The $500 million loss estimate does not include the cost to repair infrastructure, farmland, farm equipment, or the loss of grain in storage bins. That "could reach well into the tens of millions of dollars," said Randy Veach, a farmer and president of the Arkansas Farm Bureau.
Rice is expected to be the hardest-hit crop in Arkansas. Warren Carter, director of commodity and regulatory affairs for the Arkansas Farm Bureau, said "40% of the national rice crop likely won't be planted this year." That factors in flooding damage in Missouri and Louisiana, two other large rice-producing states.
In Arkansas alone, an estimated 300,000 acres of rice farmland is expected to be wiped out, resulting in a loss of $300 million in rice production. Thousands of acres of soybean and winter wheat crop are also expected to be lost.
The flooded land could deal a devastating blow not just to farmers, but to the entire state. Agriculture is Arkansas's biggest industry, accounting for $16 billion of its economy, and Veach expects the effects of the flooding to be "felt for years to come."
Arkansas is only state along the Mississippi that has issued an estimate of crop damage.
-- Amanda Hobor is a CNN Business News producer. CNN's Meghan Dunn also contributed to this report