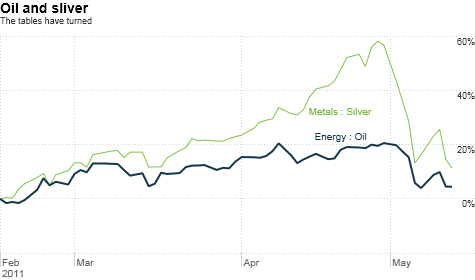 Click the chart for more commodities carnage.
NEW YORK (CNNMoney) -- Oil prices recovered from earlier losses Thursday as investors reconsidered the outlook for the U.S. dollar.
After falling to a low of $95.25 a barrel, oil for June delivery rose 73 cents to trade at $98.93 a barrel.
Prices for precious metals also regained some ground.
Silver was down 37 cents to $35.14 an ounce, after falling 7% earlier in the session. Gold was off $2.60 to $1,498.50 an ounce.
The rebound in commodities spilled over into the stock market, with all three of Wall Street's major gauges moving higher.
Investors had been crowding into commodities this year, but the market has come under heavy selling pressure over the last two weeks.
Traders said a rebound was not surprising given the sharp losses earlier this week. But few expect an immediate return to the record highs hit earlier this year.
Phil Flynn, market strategist at futures brokerage PFG Best, said traders are taking their cues from the U.S. dollar and the outlook for interest rates in Europe.
Oil prices surged to $115 a barrel last month amid expectations that the dollar would remain weak as the European Central Bank and the Federal Reserve moved in different directions on interest rates.
But recent comments from ECB president Jean-Claude Trichet raised doubts that the central bank will hike rates any time soon.
That put pressure on the euro and helped support the dollar.
"The real key here is the spread between dollar and euro and the ECB," said Flynn.
Despite Thursday's recovery, Flynn said he does not expect prices to spike back up any time soon, barring some unforeseen shock.
"Overall, I think you've broken the back of the parabolic market," he said. "You can't get too bullish on commodities unless you have an outside event."
In addition to a possible rebound in the dollar, investors are bracing for the end of QE2, the Federal Reserve's bond buying program that has pumped billions of dollars into the financial markets.
At the same time, investors are worried that demand for energy and raw materials in the developing world may be slowing down as policymakers struggle to contain inflation.
The People's Bank of China once again raised the bank reserve rate by 0.5 percentage points as it continues to work on reeling in its red hot economy.
"The concern is, of course, that monetary tightening will undermine China's demand for commodities," said Julian Jessop, an economist at Capital Economics.
But the world's second-largest economy is already showing sings of weakness, and China's imports of some key commodities have been falling outright, according to Jessop.
Meanwhile, the U.S. economy also appears to have hit a soft patch, raising worries about demand in the world's biggest consumer of crude oil.
U.S. gross domestic product, the broadest measure of economic activity, slowed to 1.8% in the first quarter from 3.1% in the prior quarter.
The sharp rise in oil prices in recent months was a major drag on growth. Besides cutting into consumer spending, higher prices for imported oil caused a rise in the nation's imports, which slowed the economy.