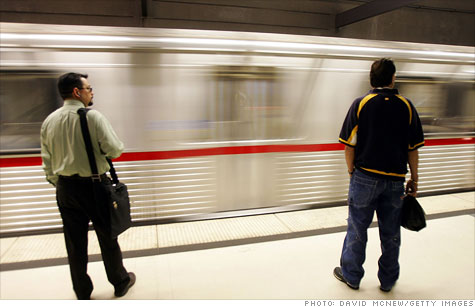 Several cities see double-digit rise in ridership as motorists balk at $4 a gallon.
NEW YORK (CNNMoney) -- Rising gas prices are helping drive big growth in ridership at several public transit systems across the country.
In Miami, passenger counts on the regional rail service connecting the city to the northern suburbs were up more than 12% in April from a year earlier, according to the American Public Transit Association.
In New Mexico, the "Rail Runner," a commuter train that runs from south of Albuquerque to Santa Fe, attracted 14% more riders last month.
And in the Raleigh-Durham-Chapel Hill area of North Carolina, ridership on the express bus service connecting the three cities is up 18%.
The spike is being attributed to people going back to work after the recession, and a steady rise in gas prices that's taxing the budgets of many motorists.
"Transit can be one of the quickest ways to avoid those high costs," said William Millar, president of the transit association.
One indication that gas prices are playing a factor: Ridership is increasing on trains and busses that serve suburbs, where gasoline usage is more intense.
Nationwide statistics are not yet available, and such percentage jumps are not expected in the larger transit systems in New York, Boston and Chicago.
Still, Millar is expecting an increase in ridership this year above the 10.2 billion public transit trips logged in 2010. If gas prices move higher, ridership could even approach the record 10.7 billion trips taken in 2008, when gas prices reached an all time high.
If gas stays at $4 a gallon for a significant amount of time, public transit is expected to add over half a billion trips. It gas hits $5 a gallon, factor in another 1.5 billion trips.
While hard on drivers, the spike in gas prices is good for operators of transit systems. They are even trying to capitalize on it, planning a national "Dump the Pump" day for June 16, encouraging commuters to leave the car at home and take mass transit instead.
But the increase in ridership is coming at a difficult time for metro rail and bus networks, said Millar.
Largely due to a drop in state and local funding caused by the recession, over 84% of public transit systems have either cut services, increased fares or are considering some combination of the two.
Increased interest in public transit isn't just fostered by higher gas prices or a rebounding economy, but rather is part of a longer-term trend, said Robert Puentes, a fellow with the Brookings Institution's Metropolitan Policy Project.
During the last decade the percentage of commuters making their journey on public transit rose slightly. While still a modest 7%, it was the first uptick in four decades, said Puentes.
"There is a moment now for public transit in the United States," he said.
He attributed the increased interest to more congested roads, higher gas prices and a redevelopment of city centers that has attracted both workers and residents to downtown areas that are better serviced by public transit.
Still, the amount of money the country spends on public transit is dwarfed by what it spends on private vehicle travel.
Government funding for public transit, plus what people spend on tickets, totaled $55 billion in 2009, according to the transit association's Millar. That's up about 65% since 1992, even accounting for inflation.
Road construction, gas, insurance, car payments and other costs associated with individual transit totaled $1.2 trillion in the same year, he said.