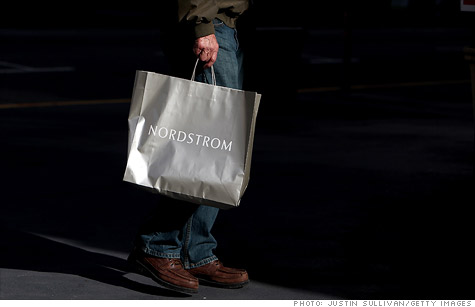 Retail sales continued to rise in April, but economists see signs of a slowdown.
NEW YORK (CNNMoney) -- Retail sales rose in April for the ninth month in a row, helped by higher prices for gasoline and food, the government said Thursday.
Total retail sales increased 0.5% last month, the Commerce Department said. Sales rose 0.9% in March and have risen every month since July 2010.
Economists had expected a 0.6% gain, according to consensus estimates from Briefing. com.
Sales excluding autos and auto parts were up 0.6%, roughly in line with estimates.
Despite the overall increase in retail sales, economists said the data suggest that consumer spending may be slowing down.
Paul Dales, economist at Capital Economics, estimated that up to 0.4% of the gain in sales is due to price increases, particularly for gas and food.
"Real retail sales may have hardly increased at all," he said.
Sales at gas stations were up 2.7% in April. Food and beverage retailers had a 1.2% increase in sales, while grocery store sales were up 1.5% last month.
Gas prices have surged this year, with the national average near $4 a gallon. In addition, food prices have risen sharply due to poor crop yields and higher production costs due to the spike in energy prices.
In a sign that higher gas prices might be eating into discretionary spending, sales of items such as consumer electronics and furniture were down sharply April.
Many economists had anticipated a bump in sales during April due to the Easter holiday, which occurred later in the month than it normally does.
But department store sales actually fell 0.2% in the month, according to the report.
On the bright side, retail sales in March were revised to 0.9% from the originally reported 0.4% increase. Sales in February were also stronger than previously reported.
"This is good news," said Ian Shepherdson, economist at High Frequency Economics, adding that the revisions alone could translate to an increase of 0.3% in first-quarter gross domestic product.
The government estimated last month that GDP, the broadest measure of economic activity, slowed to 1.8% in the first quarter. That's down sharply from 3.1% in the prior quarter.
But the recovery in the job market has shown some signs of gaining steam. In April, the economy added 244,000 jobs in the month, even as the unemployment rate ticked higher.